Get more resources
Featured whitepapers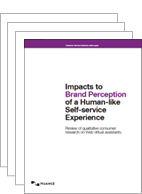 Impacts to Brand Perception of a Human-like Self-service Experience
Consumer research reveals the reasons why consumers prefer a Web virtual assistant over static Web pages.
The Gateway to Intelligent Virtual Assistants
Learn how Micro-Assistants offer an ideal starting point to begin transforming the Web customer experience with virtual assistants.
The complementary role of search and Intelligent Virtual
Learn how enterprise search and virtual assistants play important yet distinct roles within your Web Customer Support strategy.
Beyond automated FAQ systems
Legacy technologies like FAQ systems force customers to search for answers on their own. Learn how virtual assistants allow you to offer a personalized customer engagement channel to achieve 100% resolution of your consumer's needs.
Featured reports
The Sophisticated Virtual Agent. Published Oct 17, 2013
Discover how The Coca-Cola Company benefited from Nina Web on their website. Frost &am; Sullivan analyst Nancy Jamison provides an overview of virtual agents, and showcases the Coca-Cola deployment as an example of how this technology can deliver a transformative experience on the web.
Featured webinars
Supporting collateral