Improve

your healthcare financial performance
Powerful healthcare financial analytics for your healthcare organization
Clintegrity Performance Analytics gives you access to performance data and provides a way to help you understand information about the costs, quality, and profitability of healthcare services rendered. With the ability to determine service line profitability at your fingertips, you can better meet the demands of today's changing healthcare financial environment.
Decision-making made easier
Clintegrity Performance Analytics makes performance improvement decisions easy with tools to benchmark and track costs, quality, and profitability of healthcare services provided. Designed and continually enhanced to meet the varied needs of multiple stakeholders across your enterprise our solution is uniquely able to satisfy the needs of multiple departments thus increasing data accuracy, integrity and reporting Clintegrity Performance Analytics:
What sets us apart?
Supports improved clinical and financial performance
Enhances reporting unmatched reporting options
Provides comprehensive analysis of risks and opportunities assessment
Workflow
Understanding the big picture has never been so easy or seamless. Hospitals and quality measures data are uploaded to performance analytics. Nuance then analyzes the data to create user-friendly reports in a simple turn-key system.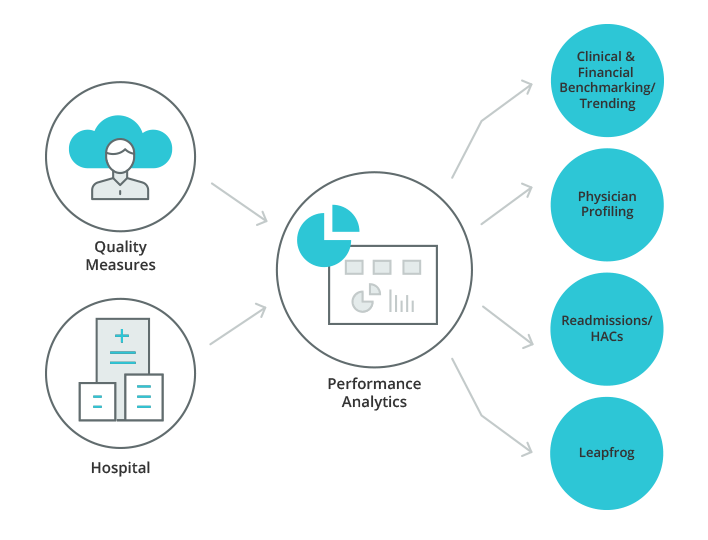 Features
Clintegrity Performance Analytics, provides a comprehensive, customizable decision-support system, enabling enhanced trend and data reporting for both clinical and financial data analysis. Drive improved care and reduce costs by tracking, analyzing, and benchmarking your performance data against our national database, which includes all payer inpatient data for multiple states and all Medicare inpatient discharges.
Improves clinical and financial performance
Between in-house analysis and available benchmark data, you can use Clintegrity Performance Analytics reporting to effectively focus quality improvement activities.
Enhances reporting with customizable benchmarking data
Choose to compare your performance to national and regional facilities in a variety of different ways, including length of stay, severity classifications, payer types, and dozens more.
Provides risk-management assessment
Identifies and tracks physician incidence rates, complication rates, and more. Use in conjunction with risk-management tracking tools to yield a 360-degree report of physician performance.
Increases revenue from managed care contracts
Use Clintegrity Performance Analytics to demonstrate efficient care, shorter length of stay, and lower costs, which will enable you to negotiate more robust contracts.
Improves physician recruitment efforts
Clintegrity Performance Analytics data can show which physicians are responsible for providing the majority of services and determine the appropriate time to recruit new physicians for those critical services.
Contact us today.
Clintegrity will help your organization Need help
quickly generate substantial revenue and operating savings

by ensuring your clinical documentation chain is accurate, sound and fully adopted by physicians.