IACP 2019 First Impressions
Dragon in action
Police reporting today meets our vision for the future
Watch Dragon in action to learn more about Dragon Law Enforcement and then preview the interview room of the future to see our vision of what's coming next.
Learn how hundreds of departments are using speech recognition to improve productivity, efficiency, and safety.
Nuance presented our vision in answer to one of the most frequent requests we receive, "When will speech recognition come to the interview room and automatically create a time-stamped transcript of an interview between a detective and suspect?"
Paperwork burden in policing
Our annual Role of Technology in Law Enforcement Paperwork survey released ahead of IACP uncovered that officers spend three or more hours per shift on incident reporting and other administrative work. The survey data also revealed the administrative burden on officers impacts report quality, community presence, and safety.
Get our latest resources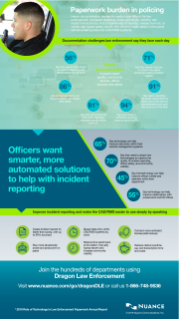 2019 Role of Technology in Law Enforcement Paperwork Infographic
Key issues facing law enforcement professionals specific to incident reporting and other documentation tasks.
Get the infographic

(pdf. Open a new window)
Impressions from the show floor
Hear first-hand reactions to partnering with Nuance and our vision for the "Interview Room of the Future"
A final look back at the Nuance exhibit at IACP 2019
Nuance representatives met with and demonstrated Dragon Law Enforcement to hundreds of law enforcement professionals.
Schedule a demo to experience
Dragon Law Enforcement