Better documentation, all around.
Get next generation productivity as Dragon Professional Anywhere combines AI-powered, professional-grade speech recognition with the convenience of the cloud. Reduce the administrative burden by enabling officers to dictate and transcribe investigative notes, on-scene details, and incident reports quickly and easily.
Discover how to:
1
Protect your community
Keep officers patrolling the field, while creating incident reports with the detail and specificity needed to advance criminal proceedings
2
Support your officers
Increase safety and reduce burnout by supporting situational awareness and improving productivity
3
Save your resources
Get the latest speech recognition capabilities while simplifying procurement, deployment, and administrative processes
Dragon Professional Anywhere in action
(Play a video)
See how Dragon helps law enforcement agencies:
Create documentation 3x faster
Save more time with custom forms and vocabulary
Increase report detail and improve accuracy―at the scene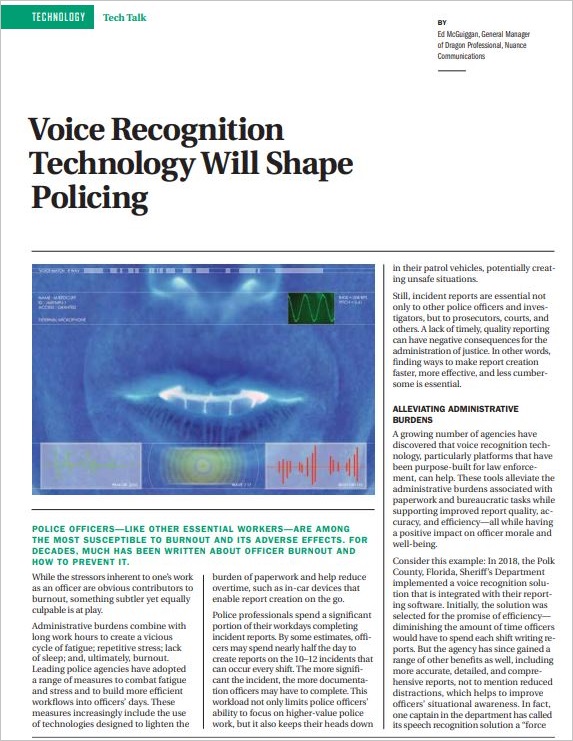 (pdf. Open a new window)
Police officers are at high risk of burnout and their administrative burden is a major contributing factor. Read our recent TechTalk article in Police Chief Magazine to explore how:
Officers save hours each day when creating incident reports
Law enforcement agencies are embracing speech recognition technology
The rise of cloud technology and 5G are boosting officer mobility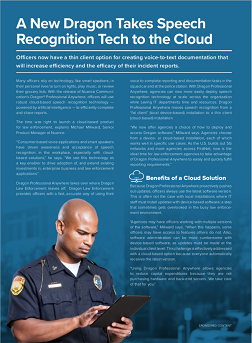 (pdf. Open a new window)
Discover how Dragon Professional Anywhere builds on the success of Dragon Law Enforcement to help law enforcement agencies:
Empower officers and detectives to capture critical incident and investigation details in the field
Create and share incident reports faster, with increased accuracy, and greater detail
Save IT resources using simple deployment, management, and version control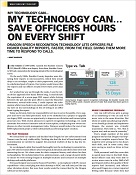 (pdf. Open a new window)
Learn about the impact of Dragon directly from Mike Wagner, Division Chief for the Boulder County Sheriff's Office. Read how his agency:
Expanded a successful Dragon pilot test to the wider department—just in time to help mitigate the impact of COVID lockdowns on his agency's operations
Saves up to two hours every shift using Dragon and Nuance PowerMics for intuitive hands-free dictation
Dictates an average of 128 words per minute with more than 2.7 million words transcribed so far
Speech Recognition Tech Extends How Officers Can Be Productive Anywhere
(Play a video)
Learn about the latest advancements in voice‑recognition technology, including:
How cloud-technology is enabling secure mobile documentation, complementing the incident reports entered into an officer's mobile data computer
The benefits of utilizing the "always up‑to‑date" speech‑recognition software department‑wide
How departments can extend existing investments in hardware and mitigate the need for major capital expenditures
Complementary solutions
Dragon Anywhere Mobile—for iOS and Android devices
Extend the capabilities of Dragon Professional Anywhere with the addition of Dragon Anywhere Mobile at no additional cost. This professional-grade dictation solution allows users to remotely create, edit, and format documents of any length and share information directly from a mobile device.
Your work doesn't stop when you are in the field or away from your computer. Whether you are a Certified Financial Advisor, law enforcement officer, or case worker, Dragon Anywhere Mobile lets you capture information at the point of interaction.
Any customizations such as Auto-Text or unique verbal commands created in Dragon Anywhere Mobile are automatically synchronized with Dragon Professional Anywhere and vice versa. This keeps busy professionals productive and offers greater flexibility—allowing work started in the field to easily be completed at the office.