Together we are more
At Nuance, we understand that AI is only intelligent in the hands of those who use it. That's why our innovation in conversational AI begins with listening, analysis, and deep understanding of each unique entity we serve.




Our purpose elevates our alliances
We build technology that frees users to be their best selves and enables businesses to do their best work. In doing so, we continually bring out the best in each other. We are:
From the engineers who develop our solutions to the diverse teams that keep our business running, Nuance is filled with people who push the limits of what's possible. Exceeding expectations is a baseline for us—so much so that our customers have come to expect it.
At heart, we are all inventors, with a questing spirit that drives us to always look past what is to "what if?" Our approximately 2,700 patents and patent applications are evidence of our pioneering DNA, which is always informed by our goal of amplifying human potential.
Over decades embedded in the industries we serve, we've learned that understanding a customer's distinct needs, obstacles, and goals is the key to tailoring a solution that succeeds on every level. As much vertical expertise as we bring to each partnership, we never forget the importance of paying attention.
Champions of what matters
With every project we launch and every problem we solve, we aim to free our partners to focus on what matters most. Because technology isn't working if it isn't helping people to do their best work, achieve their best results, and be their best selves, every single day.
Employee spotlight
"I'm so thankful to have landed here: The support of my own team and the teams I interact with is unlike anything I've experienced in my professional past. When we're working to pull a proposal together with a fast-approaching deadline, the absolute dedication from the various teams we rely on is impressive and inspiring every time."
Nadia Hashambhai
Nuance Healthcare: Marketing
Atlanta, GA
Proud to lead in LGBTQ equality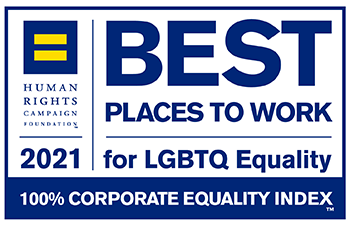 We give where we live
Corporate citizenship begins at work—and, at Nuance, that means supporting and empowering our employees as well as contributing to our communities and the world at large.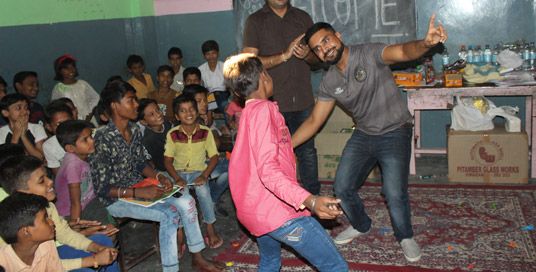 Nuance Noida embraces the Joy of Giving
Nuance Noida joined with the Love Care Foundation to bring donations and a day of fun to local kids during Joy of Giving Week.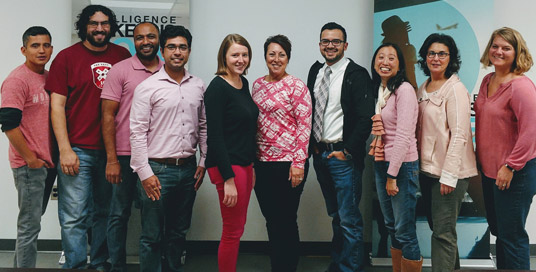 Pretty in pink for Breast Cancer Awareness
Nuance Mahwah was among offices from Burlington to Bangalore that wore pink for Breast Cancer Awareness on October 26.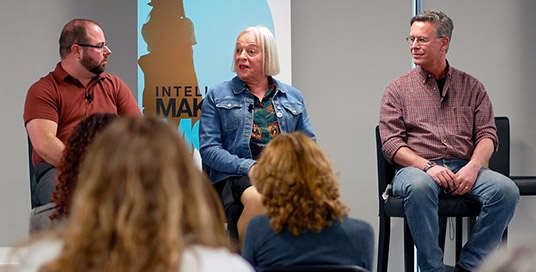 Sharing stories to defeat prejudice
Nuance Burlington recently welcomed SpeakOUT Boston, whose inspirational speakers share their stories to free the world of homo-, bi-, and transphobia and other prejudices.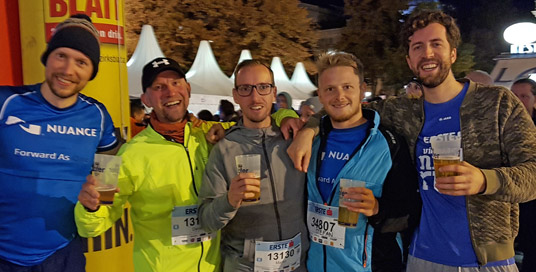 Nuance joins 12th Annual Vienna Night Run
Nuance Vienna employees hit the pavement for a race that benefits Light for the World, an organization committed to eliminating preventable blindness in Africa.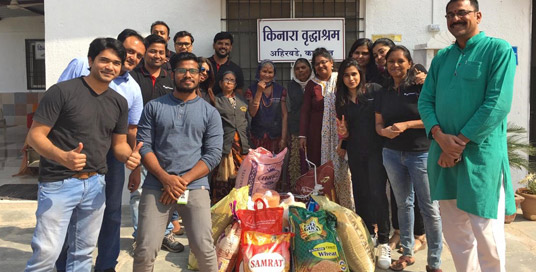 An unforgettable visit to an eldercare community
Our Pune colleagues delivered 450kgs of grain to the Kinvara Old Age Home, a local shelter for seniors, and spent a memorable day connecting with residents.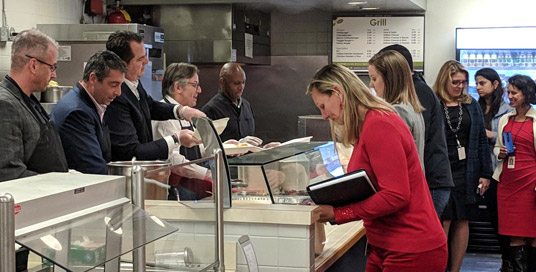 Nuance wins a Wellness Excellence Award
The New England Employee Benefits Council included us in their 2018 list of employers whose superior wellness programs increase employee engagement and health awareness.