Smart nursing with Nuance's clinical documentation in nursing record keeping
Record keeping for nurses needs to be high quality, timely and standardised with inbuilt levels of security, governance and control as appropriate for each patient scenario. Nuance speech recognition solutions for clinical documentation help digitise the process of record keeping for the nursing workforce, freeing up valuable time for patient care.

Do more with less
Faced with an aging population in need of dedicated medical care and a NHS budget deficit of more than £22bn, the healthcare sector is striving to do 'more with less'. Increasingly it's our nurses who are taking the strain.
Do better with less
Nurses must handle increased workload with a wider scope, whilst still being able to provide individual patients with an exemplary level of care.
Digitising the NHS
The government's plan for a paperless NHS by 2018, and for all patient records to be digital, real-time and 'interoperable' by 2020, adds a considerable technological challenge to nursing record keeping requirements.
Smart nursing made digital
How we can help nurses keep up with good patient record keeping
Nuance's Dragon Medical solutions provide easy to use, accurate speech recognition which instantly transcribes spoken narrative into digital nursing documentation
Accuracy and completeness
Our industry-leading technology ensures that documentation is accurate from the start. Enrich your patient notes by capturing more detailed and precise information in less time.
EPR usability and stress reduction
Nuance Dragon Medical works within your workflow. Easily navigate and update the EPR and other clinical documentation and reduce the time you spend on administration.
Patient care quality & time
Free-up precious time for caring and healing. Dragon Medical enables you to take back the time usually lost to record keeping.
Nuance Dragon Medical helps you to deliver accurate and complete patient records despite increasing workload pressures.
You can rely on our advanced technologies, proven processes, and quality patient management systems to support the way you work and produce quality documentation that captures the patient story and supports them through the care pathway.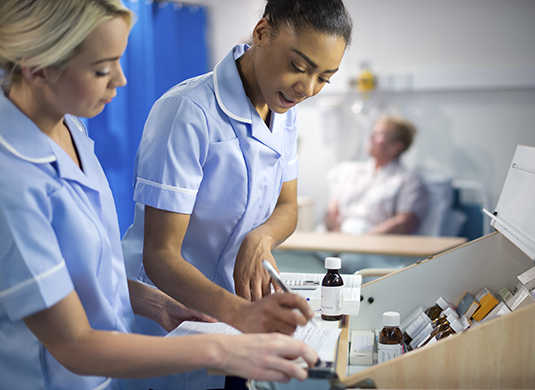 Research shows
Nurses spend over 50% of their time on clinical documentation
Discover 8 key themes identified in nursing patient record keeping
Research and experience from our customers show that nearly 11 hours per week is needed to add to clinical documentation. 64% of the time is spent on narrative ('unstructured' notes) to capture the patient story well and only 36% on 'structured notes' (chose & click). More than 1 hour per day is spent by nurses searching for information that is insufficiently clear or not available in the documentation.
Speech to text technologies save time and increase the record quality
Nuance solutions for the nurse workforce
There's a Dragon Medical solution that's made for your
Whether you work at a large IDN or hospital, a smaller regional hospital, or an ambulatory organization, we have everything your clinicians need to quickly and efficiently capture the patient story.

Want to know more?
Our suite of clinical documentation solutions and services is a perfect complement for busy clinicians and healthcare organisations who want to make no compromise when it comes to quality.
Contact us to learn more
Nursing documentation
Reimagine the process of clinical documentation
The accuracy, completeness and accessibility of nursing documentation have substantial impacts on the nurse workforce capacity and the quality of patient care. On the journey to a paperless NHS, attempts to digitise the clinical documentation process has led to a 'digital mountain of documentation'(Open a new window). Nuance's solutions for clinical documentation help improve the process of record keeping for the nursing workforce, freeing up valuable time for patient care.