Productivity at the speed of sound
The faster clinicians can tell their patient narratives, the sooner they can get back to care and go home on time. We help clinicians dictate on their terms with highly accurate, flexible, and intuitive tools. From there, medical transcriptionists (MTs) produce complete documents in hours. Meanwhile, administrative staff have visibility into the entire transcription workflow—from dictation to document distribution.

Exciting news for HIM Transcription and EHR Go-Live Services customers who will become part of the newly formed DeliverHealth Solutions: READ MORE
Benefits
Protect the patient story
Featuring templates that auto-populate content and minimise dictation, clinicians can focus more of their energy on caring for patients while simultaneously putting more detail in their reports. Ultimately, this can lead to better quality patient documentation, faster communication to fewer claim rejections, as well as improved financial integrity, compliance, and reimbursement.
Mobility that keeps up with clinicians
Rather than navigating a complex and time consuming EHR during an exam, physicians can focus their attention on the patient instead, utilising a mobile device to dictate entire or partial encounters. Documentation can be reviewed, edited, electronically signed and automatically printed or faxed—all with the touch of a finger.
Turnaround time that turns heads
It's much faster to edit transcriptions than to type them. Because dictated volume is processed through our powerful speech recognition software, we increase MT productivity—reducing turnaround time from days to hours.
Free flowing
Track and manage the clinical documentation process from dictation through transcription/editing, electronic signature, and document distribution. From automatic routing to comprehensive audit trails, our workflows were designed for the way your administrative or transcription team works.
Signed, sealed, delivered
A double layer of security protects your documentation. Our solutions protect patient information and uptime to ensure that this information is readily available to you. Nuance maintains completely redundant data centres to ensure 24x7 accessibility. In the unlikely event that the primary data centre goes offline, the secondary data centre will handle the transactions and Internet traffic.
Features
Quality clinical transcriptions are now easier done than said
Built for the way clinicians work
By offering multiple ways to capture the clinical narrative, caregivers can document the way that works best for them, from mobile app to recorder to telephone.
Anytime, anywhere
With real‑time access on their mobile devices, clinicians can view patient schedules and historical documentation. And, at regional hospitals and ambulatory clinics, clinicians can quickly and easily dictate, review, edit, electronically sign, and route documentation from their mobile devices.
Accuracy you can count on
Our industry‑leading Clinical Language Understanding technology ensures that documentation is accurate from the start. With 90% of the dictated volume processed by a computer, MTs only have to edit—increasing turnaround time while reducing human error.
One with the EPR
Our robust templating capabilities are designed to automatically populate your EPR—regardless of the way clinicians choose to capture the patient narrative. Because clinicians can complete their documentation quickly and accurately, you'll improve EPR adoption rates and clinical documentation quality while increasing the time for your clinicians to care.
Works with your workflow
From data capture all the way to coding, Nuance works seamlessly within your workflow. Features like automatic dictation file association, document routing, and integration deliver data to the EPR sooner—resulting in faster turnaround times and greater patient satisfaction.
Be in the know
We understand that, in the end, success is measured by the quality of the produced document. Your MTs can rely on our advanced technologies, proven processes, and quality systems to support their workflow and produce quality documentation that exceeds expectations.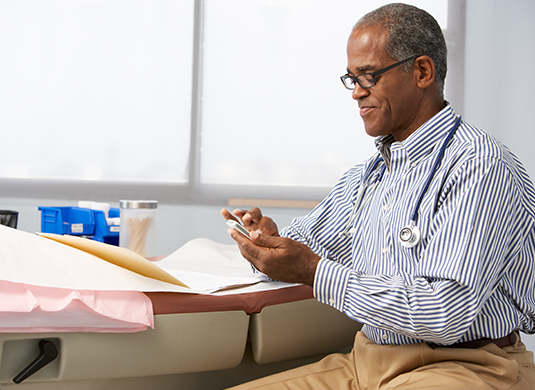 For clinicians
More time with patients, less with technology
Easy-to-use mobile applications amp up the efficiency of dictation, improve content and free clinicians to spend more time and attention on patient care. Improve documentation speed, reduce documentation costs and work the way that best meets the workload demands of the specialty, clinic and hospital.
For healthcare providers who prefer to use transcription, our end‑to‑end documentation mobile applications offer anytime, anywhere flexibility.
---
Ready to talk about a more accurate and productive approach to transcription? We're listening.