Cloud services to let clinicians go anywhere
If you want to increase your level of care, clinical documentation should be as mobile as your clinicians. Nuance provides a suite of tools in the cloud that go wherever they're needed, from the consultation room to the lab to the car.

Cloud Services features and benefits
Clinical documentation—without limitation
From portability to reliability, there are hundreds of reasons to consider Nuance's cloud and mobile medical solutions. Here are six of the most popular ones.
Right the first time at the point of care
By capturing the details while clinicians are still with the patient, you not only end up with better quality documentation, but doctors have more time to spend on what matters most.
Keep pace with your workforce
Healthcare professionals are now free to complete patient stories as a natural part of their day—by walking up to any workstation at the clinic or securely accessing the same speech profile from their home office or on the road.
Put your people and money where it matters
Cloud-based solutions save you the time and expense of investing in new infrastructure, training new personnel, and managing upgrades—so you can focus on what you do best—healthcare.
Access you can count on
Our cloud medical solutions feature 99.95% uptime and run on geographically disperse, active‑active, redundant data centers. Not to mention geo‑location routing and global load balancing for true elastic computing.
Our security is your security
By leveraging cloud computing services hosted by Microsoft Azure, we're able to focus on delivering solutions with world-class features—like secure communication of speech data over 256‑bit encryption channels using TLS protocols into the EPR.
Cloud Solutions—supporting the paperless NHS
Making the rounds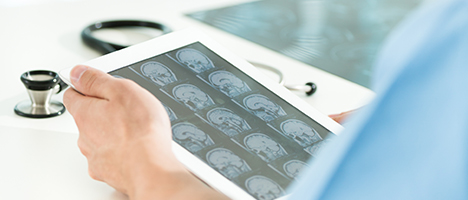 Quality clinical transcriptions are now easier done than said
Nuance transcription platform eScription doubles MT productivity
Turnaround time that turns heads. It's much faster to edit transcriptions than to type them. Because dictated volume is processed through our powerful speech recognition software, we increase Medical Transcription productivity—reducing turnaround time from days to hours to moments. Our fully-automated process can identify discrete information contained within the note and upload the data into the EPR through a secure interface.
End‑to‑end documentation mobility—anytime, anywhere flexibility.
eScription Mobile allows clinicians with iOS or Android devices to manage their documentation from anywhere using a Wi‑Fi network or cellular data connection. Save time, increase report accuracy and improve document turnaround times. Furthermore, online app store and market installation minimises demand on IT resources.
---
The role of cloud solutions within the UK's healthcare sector
The Mobile Clinician
Why mobile and cloud?
The role of cloud solutions within the UK's healthcare sector
Chief Information Officers and IT specialists in the healthcare sector are seeking alternatives to software that is installed on local computers and which are physically on the premises. Here are three good reasons to chose Nuance cloud services for clinical speech recognition and medical transcription:
Enable the clinical workforce to change the way they work without distracting them and improve the working environment of the NHS workforce we are relying on.
Enable the clinical workforce to change the way they work without distracting them and improve the working environment of the NHS workforce we are relying on.
If you talk with clinicians, they'll discuss workflow, patient care, accuracy of information— they care less about the technology, app or widget that will give it to them
Connecting healthcare through cloud innovation
1st to market
with innovations in cloud-based speech recognition, mobile medical transcription solutions, and computer-assisted physician documentation (CAPD).
67 million
active cloud users per month connect to Nuance solutions using more than 12 billion connected devices including TVs, cars, watches, thermostats, home security systems, clinical documentation solutions, and more.
3,000+
clinics, hospitals, and IDNs leverage Nuance healthcare solutions in the cloud.
Data security and service continuity
Secure and robust cloud offering
Our security practices, combined with our highly available and redundant infrastructure, ensure that your physicians will enjoy fast, secure, and uninterrupted clinical speech recognition.
Data centre security
In addition to the core Microsoft Azure data centre security, Nuance employs many industry best practices to further safeguard customer data and bolster the overall security of Nuance cloud services.
Engineered for security
Nuance employs software development and engineering security best practices. We develop according to Secure Software Development Lifecycle and utilise Veracode for static code analysis to scan for vulnerabilities.
Data transmission encryption in transit
Nuance speech‑enabled client applications stream audio in real time to Nuance cloud services for speech recognition processing. Security standards and transmission protocols are constantly evolving in response to new security threats.
Why should you speech-enable your clinical documentation now?
Whether you need front‑end dictation solutions or back‑end transcription services, there's no end to the ways we can help.