PowerMic—wireless and wired microphones for Dragon Medical
Documentation is critical for accurate electronic health records. Nuance makes it easy for clinicians to dictate, edit, and navigate the EPR simply by speaking—via a secure mobile app or wired microphone.
Turn your smartphone into a secure dictation microphone
PowerMic Mobile is an iPhone and Android app that lets clinicians use their own smartphone as a dictation microphone at any workstation with Dragon Medical One. It's easy to use and pairs instantly and securely. PowerMic Mobile supports clinician mobility and reduces the need for shared keyboards – helping to lower infection risk.
Wireless and wired
With PowerMic, EPR workflows work for clinicians
Now clinicians can use PowerMic Mobile on their own smartphone, PowerMic at their workstation, or other supported handheld or headset microphones with Dragon Medical solutions to dictate the patient story directly into the EPR.
PowerMic Mobile
Move from room to room, workstation to workstation, using your own personal smartphone as a convenient, wireless mic. Provides greater flexibility to fit caregivers' schedules while extending clinical documentation capture.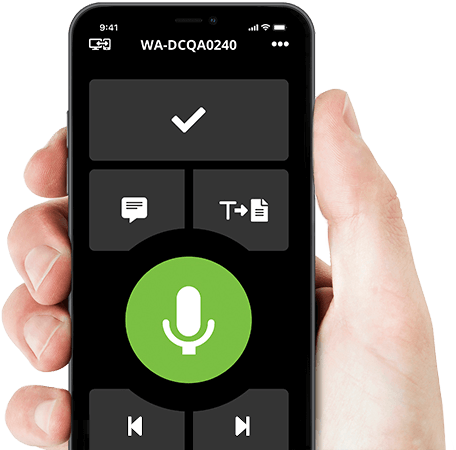 PowerMic 4
Bring clinician dictation to a new level with ergonomic control of dictation and rapid field navigation. New features such as a larger pointing device, additional buttons, and magnetic mount support boost productivity.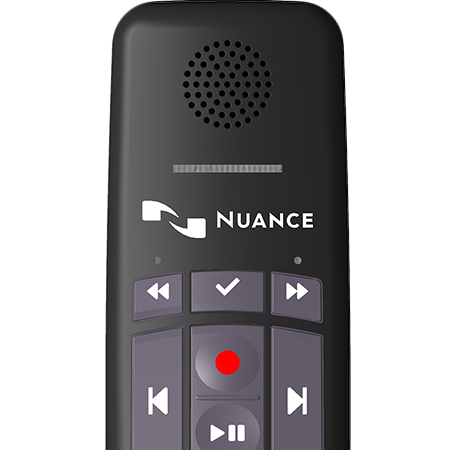 PowerMic III
Ideal for dedicated Dragon Medical dictation workstations. Combines a robust, ergonomic USB microphone with full‑function, PC‑mouse capabilities to avoid constant switching from microphone to mouse to keyboard.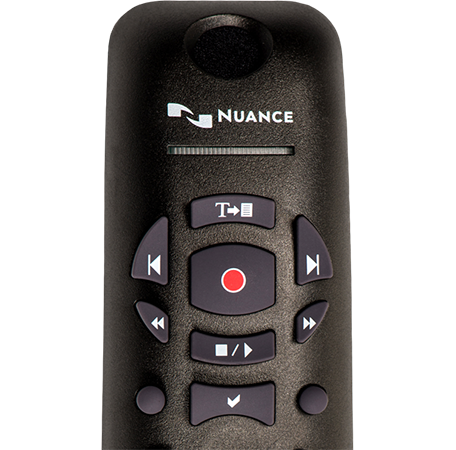 Features and benefits
Easy to deploy across any IT environment
PowerMic Mobile and PowerMic are complementary solutions that allow IT to deliver the ease of accuracy of Dragon Medical speech recognition to every clinician, across physical and virtual environments. They work seamlessly with Nuance Healthcare solutions.
Scalable & centrally managed
PowerMic Mobile grows with your organisation, offering web‑based central controls for configuring and managing user accounts and preferences.
Desktops or thin clients
With support for virtualised EPRs, PowerMic Mobile offers greater clinician mobility throughout the hospital, in clinics, at the office and at home.
Stay connected in a virtualised world
PowerMic Mobile enhances clinician productivity and convenience with support for virtualised EPR deployments and 256‑bit encryption with end‑to‑end security over WiFi or cellular networks.
Ergonomic, thumb‑control operation
PowerMic allows clinicians to easily control standard diction and speech recognition functions with PC mouse functions for higher levels of dictation speed, ease‑of‑use and productivity.
Plug & play installation
USB connectivity with plug‑in installation eliminates the need for sound‑card enabled PCs.
Advanced, accurate dictation
Unidirectional microphone with noise‑cancellation ensures higher accuracy even in the noisiest environments.
Why wireless
Doing rounds shouldn't mean hunting for dedicated dictation workstations
PowerMic Mobile is an iOS and Android app that lets clinicians use their own smartphone as a dictation microphone at any workstation with Dragon Medical. It's easy to use and pairs instantly and securely. There's no hunting for a dedicated USB‑microphone, so clinicians can spend more time with patients, capture notes while information is fresh, or catch up on clinical documentation from home.
Find out how PowerMic Mobile and PowerMic makes dictating directly into the EPR easier than ever.