My voice is my password
There's nothing easier and more secure than using voice biometric authentication. Isn't it time your company switched to the world's most widely deployed text‑dependent voice biometric software product?

Voice is the popular choice
Nuance VocalPassword enables easy and secure biometric authentication using just a person's voice.
VocalPassword is trusted by hundreds of organisations around the world to verify the identity of millions of individuals on a daily basis during interactions with an interactive voice response (IVR), mobile app or web.
Regardless of the application, users just speak a simple passphrase to validate their identity. With VocalPassword, customers are finally free from having to remember and update passwords. Their voice is as unique as their fingerprint, so it can never be hacked or stolen. VocalPassword offers your customers the simplest authentication available while reducing your costs and risks.
Get our latest resources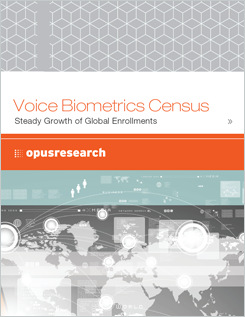 Opus Research: Voice Biometrics Census
Find out what's driving the dramatic growth and adoption of voice biometrics for customer authentication.
Get it now

(pdf. Open a new window)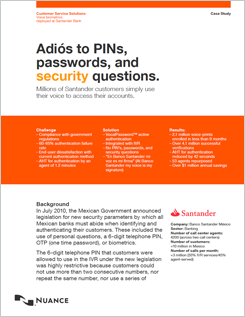 Banco Santander case study
Learn how Nuance helped the bank successfully deploy voice biometrics to replace PINs, passwords and security questions.
Get it now

(pdf. Open a new window)
Happy customers; happy enterprises
(Play a video)
Everybody hates remembering and changing passwords. In survey after survey, customers state their preference for biometric authentication. By authenticating the user with voice biometrics, enterprises can let their customers get straight to what they want to do while still providing strong two‑factor verification.
Contain the call
(Play a video)
Current verification systems are often clumsy, intrusive and untrusted. Customers regularly fail their authentication or press zero to talk to an operator. With VocalPassword, enterprises can contain callers in the IVR, mobile app or website, thus saving time and money while providing strong customer service in the knowledge that the customers are always who they say they are.
Stop fraud in its tracks
(Play a video)
Every week there is a new data breach, a new admission that a company has been hacked and millions of credentials have been stolen. With VocalPassword, even if a hacker could access your VocalPassword system, the stored voiceprint is useless to them as it cannot be used to access anyone's account.
Replacing PINs, passwords and security questions
See how quick and easy it is to set up a voiceprint for authentication. Then watch the remarkably simple yet secure login process powered by a voice biometric authentication system. No PINs, passwords or security questions to remember ever again.