Amplifying human intelligence in healthcare
For technology to assist clinicians, it needs to save time—not demand more. So we've optimized the clinical documentation process with next‑generation services and solutions that use artificial intelligence (AI) and machine learning. Every year our clinical documentation solutions help produce 300 million patient stories—and 500,000+ critical test results. Our long history of innovation, clinical expertise, and deep partnerships with EHR and HIT leaders helps care teams focus their talent and time on what matters most: the patient.

Innovation in everything we do
Over the years, Nuance has brought some of healthcare's most important technology innovations to life including cloud‑based speech recognition, context‑aware computer‑assisted physician documentation (CAPD), and virtual assistants. Today we're ushering in a new era of innovation, bolstering human intelligence to produce near‑flawless documentation at the point of care.
The first word in speech and language technology
In a field as human-centric as healthcare, any technology must enrich the real, day-to-day challenges of patient care. Nuance artificial intelligence technology is designed for the documentation requirements and workflow dynamics of today's healthcare environment.
The industry's most comprehensive ontology rules for machine learning
25 years of CDI experience and over 750 proven clinical strategies
Five billion lines of medical documentation transcribed annually
309 million patient stories documented and communicated annually
Putting the world's most intelligent technology to work for you
Every day outside of healthcare, millions of people interact with Nuance intelligent systems embedded in products across industries—including more than 160 million voice-enabled cars and totaling 14 billion customer engagements per year. In fact, 75% of Fortune 100 companies have solutions powered by Nuance technology.

As a result, Nuance processes billions of speech transactions monthly, fueling continuous and rapid innovation across industries—including healthcare.
A new generation of clinical documentation technologies and services
Satisfaction
Even the most advanced documentation solutions are ineffective if they interfere with caregiving. Nuance solutions work naturally within the existing workflows, improving productivity up to 54 percent and freeing up to two extra hours per clinician per shift.

With less time spent on documentation, care teams using Nuance report higher overall satisfaction with their work. It's unsurprising, therefore, that over half of all radiologists use Nuance, while 97 percent of physicians who use Nuance recommend it to a colleague or peer.
Quality & compliance
Quality scores for hospitals that use Nuance are more than three times national quality benchmarks.

That's because Nuance solutions support high quality documentation across the value chain to help organizations reduce retrospective queries allowing organizations to:
Capture up to 20 percent more relevant clinical content
Improve radiology compliance from 45 to 95 percent
Achieve 95 to 100 percent compliance for core measures
Financial integrity
By delivering higher-quality documentation, Nuance helps providers earn $1 billion in appropriate reimbursement each year. Our solutions deliver:
Guaranteed CMI improvement between 4 and 8 percent
Up to 90 percent clinician clarification agreement rate
Up to a $935 increase per traditional Medicare admission
$1,200 average revenue improvement per clarified admission using real-time CAPD embedded in the EHR
Amplifying human intelligence in healthcare
Technology should assist the clinician. Not the other way around. So we're creating ways to amplify human intelligence—and free clinicians to focus on what matters most: the patient.
Our partnerships set us apart
Deep partnerships and integrations with EHR and IT leaders' solutions ensure our ability to deliver a seamless clinician experience across the healthcare ecosystem.
Embedded in over 130+ web, mobile, and desktop applications
Integrated with all major EHR platforms
Collaborative roadmaps and joint development projects
A developer network of more than 1,000 HIT experts from EHRs, RIS/PACS, workflow providers, health systems, and consultant firms
And because solutions for healthcare need to be secure, Nuance solutions are paired with the secure Microsoft Azure hosting infrastructure to deliver a 99.95% cloud speech uptime guarantee on industry- leading cloud platform with Health Information Trust Alliance (HITRUST) CSF certification.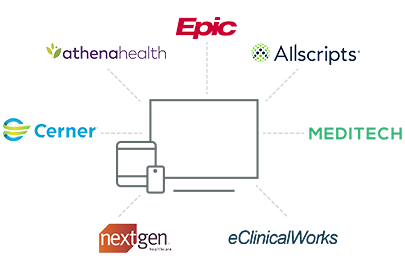 Enough about us. Let's talk about how you can improve satisfaction, financial integrity, quality, compliance and patient care.