Nuance DAX: transforming the patient‑physician experience
Learn how AI-powered ambient technology improves quality of care, reduces clinician burnout, and increases your top and bottom line.
Nuance DAX and the University of Michigan Health‑West
Explore how the University of Michigan Health‑West has expanded its deployment of Nuance DAX to empower physicians to reduce administrative workloads and focus on patient care with clinical documentation that writes itself.
To learn more, read the press release here.
Real‑world case studies
Exponential impact throughout the continuum of care
When you free doctors to focus on what matters, everyone benefits. See how DAX is optimizing outcomes in these customer stories.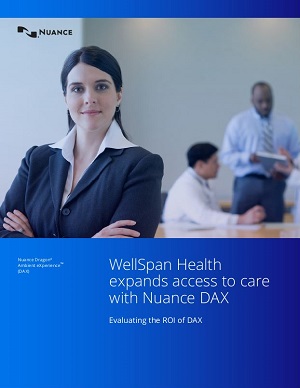 WellSpan Health and Nuance collaborated on a study to evaluate the impact of DAX on healthcare. The findings of the study are significant and wide‑ranging—from increases in access to care fueled by additional throughput, reductions in clinician burnout and cognitive load and improvements in the patient experience.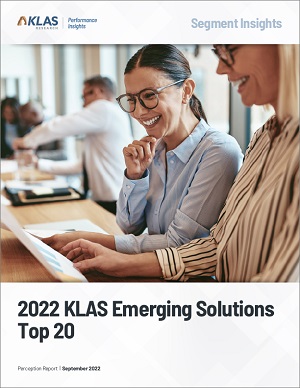 Explore why Nuance DAX industry‑leading ambient clinical intelligence continues to rank as the top solution by clinicians to help improve clinical documentation processes and the patient‑physician relationship in the 2022 KLAS Emerging Solutions Top 20 Report.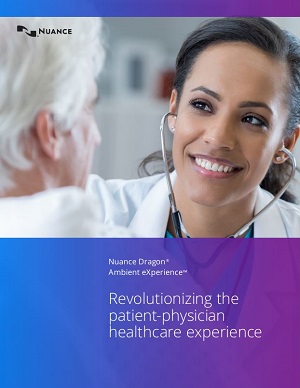 Learn how innovative technology will shape 21st‑century healthcare and why organizations need to embrace these solutions to help physicians' enhance patient care, improve physician satisfaction and increase operational efficiencies.
Serving as an AI copilot for automated clinical documentation, the Dragon Ambient eXperience (DAX) Copilot solution enables physicians to do more with less and improve clinical efficiency, physician and patient satisfaction and financial outcomes. Amplified by the power and scale of the Microsoft Cloud for Healthcare, it combines Nuance's proven conversational and ambient AI with the newest and most capable generative AI model.
Nuance DAX is now integrated into Microsoft Teams to broadly scale virtual consults aimed at increasing physician wellness and providing better patient health outcomes. It enables physicians to activate DAX from within their Teams workflows, so they can focus on the patient while the AI securely captures the details of the virtual visit in context.
Discover how doctors from Nebraska Medicine use ambient clinical intelligence solutions from Nuance and Microsoft to lessen their administrative burden and to spend more time focusing on patients.
With the persistence and growth of physician burnout rates, initiatives to improve the clinician experience also persist and grow. Meanwhile, evolving consumer demands are forcing attention to the other side of the coin—the patient experience. Rather than opposing forces, they're interrelated. In this webinar, Nuance executives join Monument Health to discuss how using a modern strategy centered around AI technology can help boost efficiencies and strengthen the relationship between individuals giving and receiving care.
Joshua Wilda, EVP & CIO, Lance Owens, DO, CMIO, Metro Health, and Kenn Harper, VP & GM, Dragon Ambient eXperience and Virtual Assistant at Nuance spoke to the Scottsdale Institute about how clinicians at Metro Health, University of Michigan Health are using ambient AI to capture and contextualize the patient encounter in the EHR, freeing clinicians up from the administrative burden and enhancing the overall patient experience.
Peter Durlach, Senior Vice President of Healthcare Strategy at Nuance, Stephanie Lahr, MD, CIO, CMIO at Monument Health and Greg Moore, Corporate VP, Microsoft Health & Life Sciences, discuss how voice‑powered AI will transform the health care experience and make the exam room of the future a reality.
See DAX in action
The Dragon Ambient eXperience delivers faster, more accurate documentation and reduces time spent on documentation by 50%. 76% of physicians believe Nuance DAX improves the quality of the patient experience and 97% of patients agree physicians using DAX are more focused, personable, and engaged. Experience DAX for yourself.
Join a virtual demo
What customers are saying about Nuance DAX