Nuance DAX: transforming the patient‑physician experience
Learn how AI-powered ambient technology improves quality of care, reduces provider burnout, and increases your top and bottom line.
Nuance DAX and the University of Michigan Health‑West
Explore how the University of Michigan Health‑West has expanded its deployment of Nuance DAX to empower physicians to reduce administrative workloads and focus on patient care with clinical documentation that writes itself.
To learn more, read the press release here.
Real‑world case studies
Exponential impact throughout the continuum of care
When you free doctors to focus on what matters, everyone benefits. See how DAX is optimizing outcomes in these customer stories.
Nuance DAX receives an "A" in KLAS's Emerging Technology Spotlight report
Learn why customers rate Nuance DAX top of the class for its ability to automatically create clinical documentation, reduce physician workloads and improve both patient and provider satisfaction.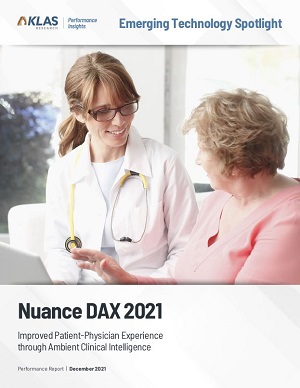 Peter Durlach, Senior Vice President of Healthcare Strategy at Nuance, Stephanie Lahr, MD, CIO, CMIO at Monument Health and Greg Moore, Corporate VP, Microsoft Health & Life Sciences, discuss how voice‑powered AI will transform the health care experience and make the exam room of the future a reality.
Joshua Wilda, EVP & CIO, Lance Owens, DO, CMIO, Metro Health, and Kenn Harper, VP & GM, Dragon Ambient eXperience and Virtual Assistant at Nuance spoke to the Scottsdale Institute about how providers at Metro Health, University of Michigan Health are using ambient AI to capture and contextualize the patient encounter in the EHR, freeing clinicians up from the administrative burden and enhancing the overall patient experience.
See DAX in action
The Dragon Ambient eXperience delivers faster, more accurate documentation and reduces time spent on documentation by 50%. 76% of physicians believe Nuance DAX improves the quality of the patient experience and 97% of patients agree physicians using DAX are more focused, personable, and engaged. Experience DAX for yourself.
Join a virtual demo