Nuance DAX: transforming the patient‑physician experience
Learn how AI-powered ambient technology improves quality of care, reduces provider burnout, and increases your top and bottom line.
Nuance DAX and the University of Michigan Health‑West
Explore how the University of Michigan Health‑West has expanded its deployment of Nuance DAX to empower physicians to reduce administrative workloads and focus on patient care with clinical documentation that writes itself.
To learn more, read the press release here.
Real‑world case studies
Exponential impact throughout the continuum of care
When you free doctors to focus on what matters, everyone benefits. See how DAX is optimizing outcomes in these customer stories.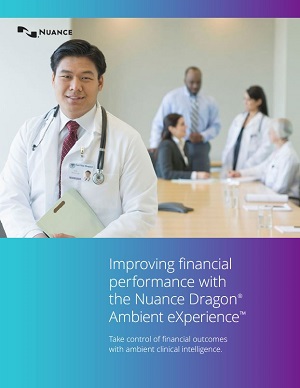 Discover how to take control of financial outcomes with ambient clinical intelligence.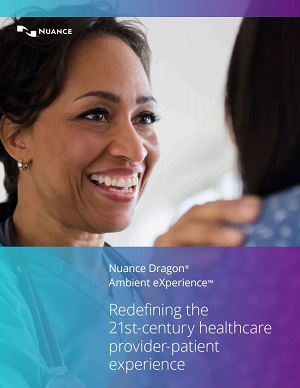 Read real examples of the exceptional return on investment achieved with Nuance DAX.
(Open a new window)
Listen to Dr. Anthony Mazzarelli discuss how he and his team have increased patient experience scores and physician engagement scores with Compassionomics—the revolutionary scientific evidence that caring makes a difference—and some of the technology that enables it.
(Open a new window)
Hal Baker, MD, Senior Vice President, Chief Digital and Chief Information Officer at WellSpan Health talks about ambient clinical voice and his experience with the Nuance DAX solution.
(Open a new window)
In this conversation, Nuance SVP of Healthcare Strategy, Pete Durlach, discusses his three decades in the speech and voice technology, building custom assistants, and where voice is and will be making a big difference in healthcare.
(Open a new window)
Diana Nole, EVP and General Manager, Nuance Healthcare and Yaa Kumah‑Crystal, MD, Assistant Professor of Biomedical Informatics, Vanderbilt University Medical Center discuss the progress, future state, and challenges of voice‑enabled technology in healthcare.
(Open a new window)
Peter Durlach, Senior Vice President of Healthcare Strategy at Nuance, joins the AI in Business podcast to discuss important and timely opportunities for AI in Healthcare. Peter shares how enhancing and automating key elements of physician workflows with intelligent solutions can ease the workload and reduce burnout among physicians.
See DAX in action
The Dragon Ambient eXperience delivers faster, more accurate documentation and reduces time spent on documentation by 50%. 76% of physicians believe Nuance DAX improves the quality of the patient experience and 97% of patients agree physicians using DAX are more focused, personable, and engaged. Experience DAX for yourself.
Join a virtual demo
Learn why Frost & Sullivan notes Nuance for its superior ability to drive outcomes and deliver the best conversational AI for clinical documentation improvement technology among all competitors.