Improving clinician well‑being and patient experience
Reduce burnout, restore the joy of practicing medicine, and get back your work‑life balance—all while improving quality of care with the Dragon Ambient eXperience (DAX).
Your clinical documentation copilot
Serving as an AI copilot for automated clinical documentation, the Dragon Ambient eXperience (DAX) Copilot solution enables physicians to do more with less and improve clinical efficiency, physician and patient satisfaction and financial outcomes. Amplified by the power and scale of the Microsoft Cloud for Healthcare, it combines Nuance's proven conversational and ambient AI with the newest and most capable generative AI model.
Unmatched outcomes
The positive impact on care delivery
7 min
saved per encounter, reducing documentation time by 50%
70%
reduction in feelings of burnout and fatigue
3 of 4
physicians state DAX improves documentation quality
85%
of patients say their physician is more personable and conversational
Video case studies
See how DAX can help you
More about DAX
Automatically document care with the Dragon Ambient eXperience
DAX, an AI‑powered, voice‑enabled, ambient clinical intelligence (ACI) solution, empowers clinicians to automatically documents patient encounters accurately and efficiently at the point of care. Exceeding the capabilities of a virtual or on site scribe, DAX scales across your organization to deliver better healthcare experiences for providers and patients.
Captures a multi‑party conversation ambiently
Clinicians engage in natural conversation with patients and other family members while a dedicated mobile app securely captures the conversation at the point of care, allowing clinicians to connect with patients without having to use explicit voice commands.
Creates clinical documentation automatically
Converts encounter conversations into comprehensive clinical notes tailored to each specialty that adhere to documentation standards, reducing the burden of compliance expertise, and enabling appropriate coding.
Produces high‑quality documentation
Integrates subject matter expertise and clinical knowledge with real‑world experience to produce high‑value, adaptable, cross‑specialty documentation. Accommodates multiple documentation formats and templates.
Delivers accurate documentation efficiently and consistently
AI‑generated notes go through a brief quality review process before being delivered to the clinician for signature in the EHR. DAX's AI learns the patterns of each clinician over time creating an AI learning loop for continuous improvement.
Integrates with electronic health records
Integrates with electronic healthcare record systems to pull out patient context, deliver the final note, and enable care teams to complete a growing list of tasks in real time with virtual assistants.
Scales across settings and specialties
Use for telehealth and office settings in ambulatory specialties, urgent care and primary care.
Customer testimonials
What customers are saying about Nuance DAX
Hear directly from customers about the many benefits they are experiencing using DAX.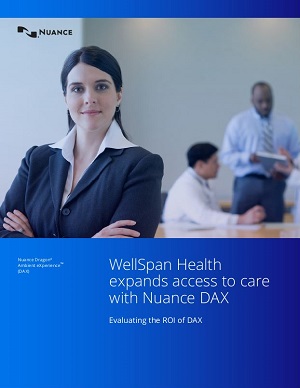 Evaluating the ROI of DAX at WellSpan Health
WellSpan Health and Nuance collaborated on a study to evaluate the impact of DAX on healthcare. The findings of the study are significant and wide‑ranging—from increases in access to care fueled by additional throughput, reductions in clinician burnout and cognitive load and improvements in the patient experience.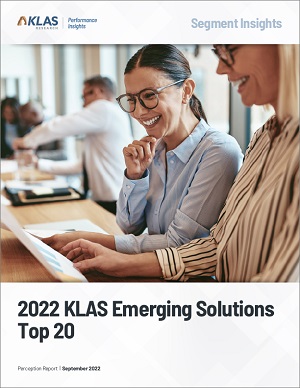 Nuance DAX ranks #1 for improving clinician experience
Explore why Nuance DAX industry‑leading ambient clinical intelligence continues to rank as the top solution by clinicians to help improve clinical documentation processes and the patient‑physician relationship in the 2022 KLAS Emerging Solutions Top 20 Report.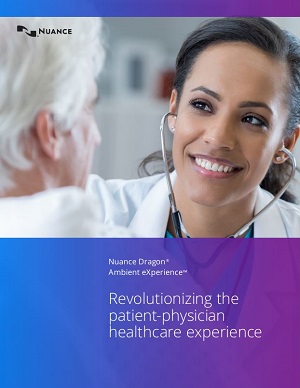 Revolutionizing the patient‑physician healthcare experience
Learn how innovative technology will shape 21st‑century healthcare and why organizations need to embrace these solutions to help physicians' enhance patient care, improve physician satisfaction and increase operational efficiencies.
Blogs
Ambient clinical intelligence in healthcare
Articles
Learn why physicians rely on DAX
On-demand webinars
Hear from industry experts and peers
How three organizations replaced scribes with AI
In a digital world, medical scribes are becoming antiquated. Without industry standards, documentation quality is inconsistent and the one to one scribe to physician relationship doesn't scale. Explore how three organizations are moving beyond medical scribes to improve documentation and put the conversation back in the patient encounter.
Nuance DAX—a customer's perspective
In this on‑demand webinar, Dr. Lance Owens, CMIO/practicing physician, and Joshua Wilda, CIO from the University of Michigan Health West (UMHW) joined Nuance to discuss how DAX is helping UMHW improve patient and physician satisfaction and the patient experience, and ROI.