Dragon Ambient eXperience | Scribes

Dragon Ambient eXperience
Move beyond scribes to automatically document care
Artificial intelligence is revolutionizing healthcare and making it easier for physicians to document care without the use of a medical scribe. Join a virtual demo and discover why AI is more effective than medical scribes and explore how to automatically document care with the Nuance Dragon Ambient eXperience (DAX).
Medical scribes downfalls
44%
have no prior experience, and no prior training, leaving it in the hands of the physician.
22%
Only 22% have a form of certification because there is no standard for medical scribes, leading to inconsistent documentation quality.
↑Rates
High turnover rates leads to continuous training for accurate notes and QA up to the physician.
Discover how you can move your clinical documentation beyond medical scribes
In a digital world, medical scribes are becoming antiquated. Without industry standards, documentation quality is inconsistent and the one to one scribe to physician relationship doesn't scale. Move beyond medical scribes and see how Nuance DAX can improve your documentation and put the conversation back in the patient encounter.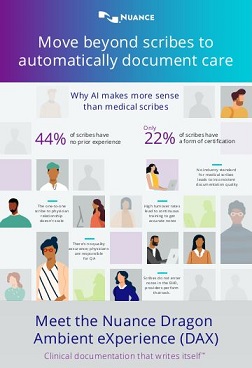 Meet Nuance Dragon Ambient eXperience (DAX)
Innovated by Microsoft, Nuance DAX automatically documents care and appropriately contextualizes every word of the patient encounter—automatically with no dictating or typing—you just talk naturally and Nuance DAX does the rest.


Better patient‑physician experience, all around.
Achieve unmatched outcomes with Nuance DAX
7 min
Saved per encounter. Reducing documentation time by 50%.
70%
Reduction in feelings of burnout and fatigue.
79%
Of physicians state DAX improves documentation quality.
83%
Of patients say their physician is more personable and conversational.
Join an upcoming demo to learn more
Tuesday, July 12, 1:00pm ET
Tuesday, July 26, 3:00pm ET
Thursday, August 4, 1:00pm ET
Tuesday, August 16, 3:00pm ET
Thursday, September 15, 12:00pm ET
Tuesday, September 27, 2:00pm ET
Join the virtual demonstration
Fill out the form below to see Dragon Ambient eXperience in action.