Dragon Ambient eXperience | Conversational ambient AI
Dragon Ambient eXperience (DAX)
Better patient‑physician experience
Explore the benefits of enabling physicians to document in‑person and telehealth encounters automatically with Nuance DAX. Join a virtual demo and learn how to document patient encounters accurately and efficiently at the point of care.
Tuesday, July 12, 1:00pm ET
Tuesday, July 26, 3:00pm ET
Thursday, August 4, 1:00pm ET
Tuesday, August 16, 3:00pm ET
Thursday, September 15, 12:00pm ET
Tuesday, September 27, 2:00pm ET
Unmatched outcomes
Discover how to boost efficiency, reduce physician burnout, improve care quality, and enhance patient satisfaction with the Dragon Ambient eXperience.
7 min
Saved per encounter, reducing documentation time by 50%
70%
Reduction in feelings of burnout and fatigue
79%
Of physicians state DAX improves documentation quality
83%
Of patients say their physician is more personable and conversational
Nuance DAX receives an "A" in KLAS's Emerging Technology Spotlight report
Learn why customers rate Nuance DAX top of the class for its ability to automatically create clinical documentation, reduce physician workloads and improve both patient and clinician satisfaction.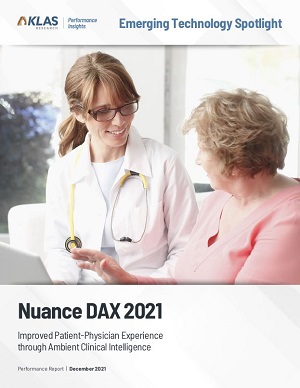 Join the virtual demonstration
Fill out the form below to see Dragon Ambient eXperience in action.