Dragon Medical One
Dragon Medical One
Better clinical documentation
Empower clinicians with next‑level voice capabilities that aid, assist, and advise documentation workflows. Explore how Dragon Medical One provides secure, convenient, and comprehensive clinical documentation support from pre‑charting through post-encounter.
Capture the complete patient story in the EHR
Integrated voice skills reduce repetitive tasks, ease information access, and streamline clinical and personal workflows. Explore how Dragon Medical One achieves higher quality documentation and greater flexibility with real‑time speech recognition.
50%
less time spent on documentation
20%
more relevant clinical content captured
2hrs
saved per day on documentation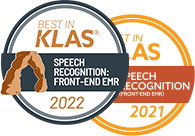 Ranked #1 Best in KLAS for 2 consecutive years
Dragon Medical One named 2022 and 2021 Best in KLAS: Software & Services award winner, earning praise from clinicians for helping them deliver and document better patient care.

#1 AI‑Powered and Cloud‑Based Provider from Black Book
Nuance ranked #1 in 2021 for Speech Recognition and Clinical Intelligence Solutions for second consecutive year.

FedRAMP Authorized Solution
Dragon Medical One is now listed on the FedRAMP Marketplace as Authorized and is ready for procurement, authorization, and deployment.
Request a demo
Fill out the form below to see Dragon Medical One in action.