The voice of the customer
Emily Broussard, Regional Director of Radiology at Ochsner Lafayette General describes how PowerScribe One improves radiology reporting efficiency and quality to help accelerate patient care.
Joel Mixon, MD, Radiologist at Birmingham Radiological Group-GV, discusses how PowerScribe positively impacts patient care, clinician satisfaction, and radiology workflows.
Case studies
Proven results
(pdf. Open a new window)
Ochsner Lafayette General turns around 96% of reports in one hour or less and improves report quality with PowerScribe One.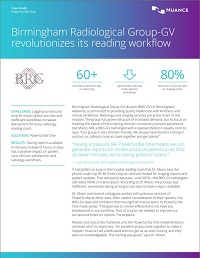 (pdf. Open a new window)
Birmingham Radiological Group‑GV reduces phone call interruptions to reading room by 80% and revolutionizes its radiology reading workflow with PowerScribe One.
Experience the next generation of radiology reporting
Request a demo and discover how you can improve report quality and consistency with PowerScribe One.