Dragon Ambient eXperience | AI for Healthcare

See Nuance DAX in action
Transform the patient experience
Join a live virtual demo of the Dragon Ambient eXperience (DAX) and discover how you can improve the patient experience. With DAX, providers can focus and connect with patients, capture the full patient story, expand access to care, and reduce wait times.
Rehumanize healthcare
As consumers have more choice and telehealth proliferates, reducing the geographic boundaries of care, the patient-provider experience becomes even more critical.
Here's what patients are saying about DAX:
83% say their physician is more personable and conversational
81% say their physician is more focused
75% say their physician spends less time on the computer
Source: Over 300 patient surveys 6/2021
January
Thursday, January 27, 1:00pm ET
February
Monday, February 7, 1:00pm ET
Thursday, February 17, 11:00am ET
March
Thursday, March 3, 1:00pm ET
Monday, March 22, 11:00am ET
Thursday, March 24, 1:00pm ET
Monday, March 28, 11:00am ET
Nuance DAX receives an "A" in KLAS's Emerging Technology Spotlight report
Learn why customers rate Nuance DAX top of the class for its ability to automatically create clinical documentation, reduce physician workloads and improve both patient and provider satisfaction.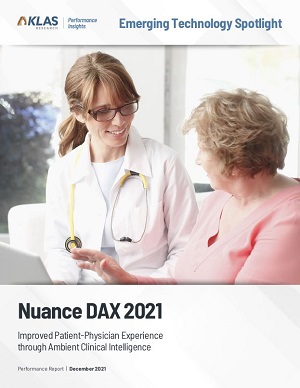 Join the virtual demonstration
Fill out the form below to see Dragon Ambient eXperience in action.
Intelligence you can trust
A transformative answer to many of healthcare's biggest challenges, Nuance DAX draws on decades of healthcare experience and a pervasive market footprint. Informed by incomparable streams of data that continually improve our AI, DAX applies intuitive technology to enhance operational efficiency and enable optimal patient care. It is built on the highly secure HITRUST CSF certified, Microsoft Azure platform and available for an array of medical specialties.
Better patient experience, all around.
Hear how DAX is expanding access to care and providing a better patient experience from Dr. Mokarroma Sharmin, Family Care Medicine Specialist at WellSpan Health.
Scale virtual visits without tech toggling or manually documenting care—during or after visits. Now you can focus on your patients while clinical documentation writes itself.