Dragon Ambient eXperience | Microsoft

Nuance Dragon Ambient eXperience (DAX)
Better patient‑physician experience, all around.
Discover how Nuance DAX allows physicians to document in‑patient and telehealth encounters automatically at the point of care. Join a virtual demo to see how to turn the chair back around and focus on your patients, save time, preserve the patient‑physician experience, and eliminate after‑hours work.
Reimagine the patient‑physician experience
50% reduction in time spent documenting care
70% reduction in feelings of burnout and fatigue
83% of patients say their physician is more personable and conversational
Our AI solutions help clinicians engage with patients more effectively at every stage of the health and wellness journey. Using ambient clinical intelligence solutions like DAX, innovated by Microsoft and Nuance, clinicians spend less time on administrative tasks, helping them get back to caring for patients faster.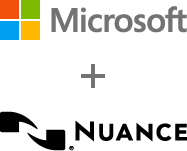 Thursday, December 8, 3:00pm ET
Thursday, December 15, 1:00pm ET
Nuance DAX receives an "A" in KLAS's Emerging Technology Spotlight report
Learn why customers rate Nuance DAX top of the class for its ability to automatically create clinical documentation, reduce physician workloads and improve both patient and clinician satisfaction.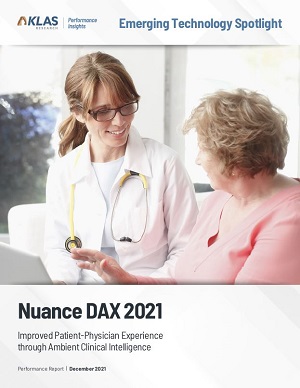 Join the virtual demonstration
Fill out the form below to see Dragon Ambient eXperience in action.
Want to learn more?
See how the latest in AI can move the conversation back to the forefront with clinical documentation that writes itself™