Diagnostic Solutions to Curb Radiology Burnout
Diagnostic Solutions
Better radiologist satisfaction, all around.
Improve radiology efficiency and reduce provider burnout with AI‑powered solutions that deliver support, guidance, and automation while minimizing distractions.
Discover how Nuance solutions harness the power of AI to transform radiology
Terence Matalon, MD, Chair of Radiology at Einstein Healthcare Network, discusses the next generation of radiology reporting with PowerScribe One and workflow integrated AI through the Nuance AI Marketplace.
Benefits
AI‑powered radiology solutions to help you stay focused and work smarter
By automating routine tasks and streamlining workflow, radiologists can focus on the critical work of image interpretation with accurate, high‑quality reporting.
Harness powerful workflow optimization tools and data analytics to balance workload and deliver automation to boost accuracy, minimize rework, and free radiologists from interruptions that can delay interpretations and increase the likelihood of inconsistent recommendations.
Deliver consistent recommendations
Be confident that ordering physicians receive consistent recommendations, reports are high‑quality, and diagnoses are accurate, appropriate, and timely. Patients are well‑served and the department runs smoothly while contributing to the bottom line.
Focus on what matters most
Stay focused on interpretations and recommendations when worklists are balanced, data entry and routine tasks are automated, relevant studies are readily accessible, and evidence‑based guidelines are at your fingertips.
Make sure radiology systems deliver optimal performance. Harness your technology investments across the enterprise to boost productivity, drive organizational savings, and ensure more effective imaging management.
Realize a ROI that positions radiology as a value center while enhancing patient care. Facilitate early‑stage interventions to minimize healthcare costs, recover lost opportunities from failed follow‑ups, and build revenue through expanded services and improved efficiency.
Key solutions
Boost clinical, operational, and financial outcomes
Nuance diagnostic solutions are continuously evolving to improve the efficiency and effectiveness of radiologists' work across the continuum of care.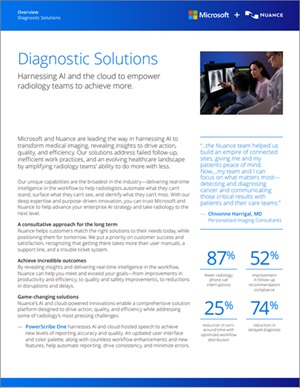 Nuance Diagnostic Solutions Overview
We're transforming radiology with AI and cloud‑based solutions that demonstrate value and provide better patient care. We free the radiology team from distractions, interruptions, and delays that get in the way of staying focused, moving quickly, and working smarter. We ensure every detail of a patient's journey is thoroughly seen through so that you realize the best clinical, operational, and financial outcomes.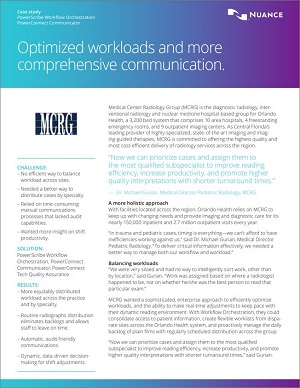 Case Study: Orlando Health
With PowerScribe Workflow Orchestration and PowerConnect Communicator, MCRG has streamlined workflow and communication across the radiology department and beyond to increase efficiencies, balance workload distribution and deliver better patient care.
See what you + Nuance can do
Schedule a meeting or demo and learn how to empower the radiology team to deliver more complete, accurate reports with AI‑powered reporting solutions.
Learn how Nuance radiology solutions offer support, guidance, and automation that allow radiologists to stay focused, move quickly, and work smarter.