KLAS Research | Emerging Solutions Top 20
Better clinician experience, all around.
Customers report that Nuance DAX boosts physician satisfaction by streamlining clinical documentation processes. In turn, patient‑physician relationships unexpectedly improve as physicians communicate better and gain the bandwidth to focus on a more diagnostic approach.
"Conceptually, the promise of a future automatic dictation solution that can just listen to the patient encounter and then write the note for me seems incredible. That would be a total game changer from a workflow standpoint, as documentation is one of the most painful pieces of the clinical experience as a practicing physician." —Non‑customer C‑level/executive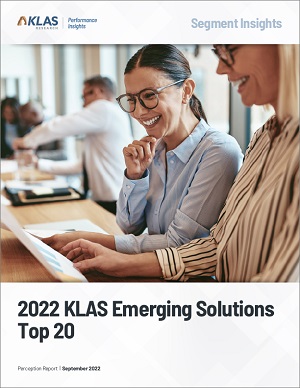 Unmatched outcomes
The positive impact on care delivery
7min
saved per encounter, reducing documentation time by 50%
70%
reduction in feelings of burnout and fatigue
3 of 4
physicians state DAX improves documentation quality
85%
of patients say their physician is more personable and conversational
Our AI solutions help clinicians engage with patients more effectively at every stage of the health and wellness journey. Using ambient clinical intelligence solutions like DAX, innovated by Microsoft and Nuance, clinicians spend less time on administrative tasks, helping them get back to caring for patients faster.