During this webinar, Joshua Zaritsky, MD, and Karen Baytops, MSM, RHIT, of Nemours Children's Health System and Jared Pelo, MD, CMIO, of Nuance Healthcare, discuss how AI technology can add value to existing investments and help clinics address physician burnout for improved patient care. In addition, they offer insight on future technologies such as virtual assistants and ambient clinical intelligence.

You'll learn:
1
How to use technology efficiently
2
Best practices when implementing new solutions
3
How future technologies and AI will reduce administrative burdens
Karen Baytops, MSM, RHIT
Karen Baytops serves as the Corporate Assistant Director, Health Information Management Department, Nemours Children's Health System. With over 20 years of history with the organization, Karen now manages the Medical Transcription, Release of Information, and Chart Analysis sections of the HIM Department in Delaware and Florida.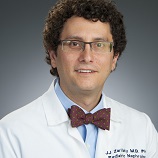 Joshua J. Zaritsky MD, Ph.D.
Dr. Zaritsky has lectured and published extensively in the fields of chronic kidney disease, iron metabolism, and metabolic bone disease. Active in pediatric nephrology research collaboratives, Dr. Zaritsky's interests include acid‑base and electrolyte abnormalities, acute kidney injury, dialysis, and renal transplantation.
Jared Pelo, MD
Dr. Pelo is an Emergency Medicine physician, proven leader, and innovator. He helps lead the ambient clinical intelligence team at Nuance, where he is a functional leader and CMIO. Dr. Pelo's passion is the intersection of technology and healthcare; he can understand complex systems and find ways that technology especially artificial intelligence can make healthcare more functional and efficient.
View the on‑demand webinar now
Fill out the form below to discover how to use the power of AI to reduce administrative burden and improve patient care.