Artificial intelligence helps clinicians tell the complete patient story
Better clinical documentation, all around.
Failure to document secondary diagnoses and comorbidities can negatively impact patient outcomes and lead to costly readmissions. However, having to manually scour patient charts and identify the full range of potential diagnoses can exacerbate care team burnout.
That's where workflow‑integrated AI comes in. Sophisticated CAPD technology helps clinicians efficiently capture the complexity of the patient story, enhancing documentation integrity while supporting better outcomes.
Discover how Nuance's suite of CAPD solutions drive measurable results across:
1
Quality & patient safety outcomes
Identify undocumented and unspecified diagnoses based on clinical evidence to better capture the true severity and acuity of each patient.
2
Financial outcomes
Promote appropriate reimbursement and reduce denials.
3
Clinician experience
Engage physicians at the point of care, streamline workflow, and reduce disruptions down the road.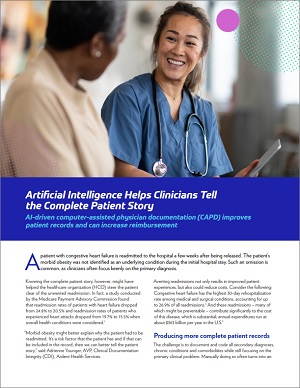 Download the white paper
Fill out the form below to discover how actionable, in‑workflow intelligence supports enhanced documentation specificity, accuracy, and overall quality.