The Medical Coding Landscape
Set your teams up for success
The shift from volume‑ to value‑based care has been underway for years. To achieve this transformation, CMS and commercial payers have developed means to quantify and incentivize quality outcomes through clinical documentation.
The clerical burden associated with clinical documentation often falls too heavily on individual physicians tasked with accurately documenting conditions at the point of care. This documentation occurs in the EHR, requires time and attention, and can undermine the human element of care delivery as clinicians' focus is pulled away from the patient in front of them toward a digital screen.
This white paper examines the current medical coding landscape and offers insights into how technology can simplify coding complexity.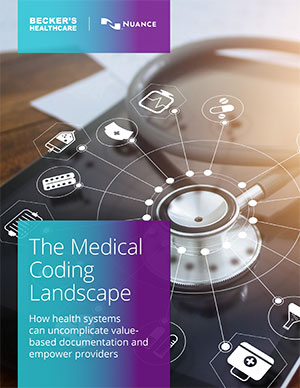 Named Best in KLAS 2023 for Computer-Assisted Physician Documentation, driving documentation accuracy and better quality outcomes across care settings.
Download the white paper to learn more