Radiology solutions to help you thoroughly see it through
The best outcomes don't just happen because an image was taken. They occur when everything surrounding the image—as a result of that image—happens easily and automatically. AI in medical imaging has finally arrived, empowering you with the best radiology solutions.

Video
Harness the power of AI to transform radiology
From failed follow‑up and inconsistency of recommendations to inefficient work practices and burnout and beyond—see how Nuance's game‑changing innovations in AI and cloud‑powered technology help you meet these challenges head-on.
Concerns & benefits
Reduce distractions, interruptions, delays.
Improve outcomes when every detail is thoroughly seen through.
Follow-up adherence
When every detail isn't seen through:
Follow-up adherence declines.
When it's thoroughly seen through:
Recommendations are identified, tracked and managed; follow-up adherence improves.
Recommendation consistency
When every detail isn't seen through:
Recommendation consistency suffers.
When it's thoroughly seen through:
Automated clinical guidance helps ensure consistency and accuracy of recommendations; report quality improves.
Improved turnaround and care delivery
When every detail isn't seen through:
Patient satisfaction and outcomes decline.
When it's thoroughly seen through:
Redundant imaging decreases, patient transfers can be avoided; length of stay can be reduced.
Revenue streams
When every detail isn't seen through:
Revenue opportunities go unrealized.
When it's thoroughly seen through:
Radiology departments and practices leverage new revenue streams while prioritizing patient care; radiology shifts from a cost center to a value center.
Incredible outcomes start here
3 of 4
Radiologists rely on Nuance every day to ensure accurate, efficient and more cost‑effective reporting
80%
of radiology reports in the U.S. are generated by Nuance radiology solutions, giving back valuable time to hardworking radiologists.
1M+
Imaging studies are shared per month using Nuance, resulting in improved collaboration and accurate diagnoses
Videos
Driving unmatched outcomes with Nuance's automated diagnostic radiology solutions
Hear from Peter Wang, MD, of Einstein Healthcare Network, how radiologists advance patient care and referring physician communication with in‑workflow, automated, actionable findings notifications.
Stephanie Lahr, MD, CHCIO, CIO, and CMIO at Regional Health, explains how Nuance PowerShare enables Regional Health to share diagnostic images across a large geographical region quickly and efficiently.
Hear from Warren B. Gefter, Professor of Radiology at Penn Medicine, how Nuance's AI‑driven reporting platform, PowerScribe One, leverages AI, structured data, and automation to drive improved patient care.
Solutions
AI-driven radiology solutions from the company that brings you PowerScribe
Nuance's automated diagnostic radiology solutions harness AI, advanced language processing, and cloud‑powered technology to make radiologist's work more efficient, accurate, satisfying and valued. Now, you can trust that every detail in the imaging journey will always be thoroughly seen through.
Speech recognition accessories
Complementary solutions that allow you to be even more productive and focus more attention on patient care
Find out more

(Open a new window)
Porter Research report reveals how radiologists see AI and PowerScribe One impacting radiology
Hear firsthand from practicing radiologists how they view the role that AI and the cloud must play, the anticipated benefits of solutions like Nuance PowerScribe One, and how these innovations can advance the practice of radiology.
Get our latest resources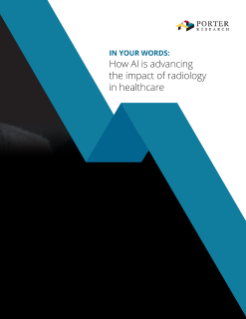 (pdf. Open a new window)
PowerScribe One
The next generation of radiology reporting. Harnessing AI, cloud‑powered technology and real‑time structured data extraction to bring you new levels of efficiency, accuracy, quality, and performance.
AI-driven algorithms
Brings AI results for image characterization and other findings directly into your reporting workflow—so information is at your fingertips, where and when you need it.
Structured data extraction
Revolutionary cloud‑powered language understanding extracts meaningful data from your narrative text—to auto‑populate reports, drive decision support tools and streamline reporting processes.
Intelligent data exchange
Structured data is easily shared across systems to ensure accurate, complete reports, consistent follow‑up recommendations, and optimal patient outcomes.
Already a PowerScribe user? Contact your account executive to plan your migration to PowerScribe One.
AI Marketplace for Diagnostic Imaging
Accelerating the development, deployment and adoption of AI for radiology
The industry's first and only two‑sided network for diagnostic imaging, the Nuance AI Marketplace for Diagnostic Imaging offers AI developers the ability to connect to the 70 percent of radiologists and the 6500+ healthcare facilities already using Nuance's PowerScribe radiology reporting and PowerShare image sharing network.