AI Marketplace for Diagnostic Imaging
Let Nuance bring you to market
Join a growing movement to foster the widespread adoption of AI across the global radiology community. The AI Marketplace is open to AI developers, data scientists, researchers, and vendors who are working on AI services for diagnostic imaging.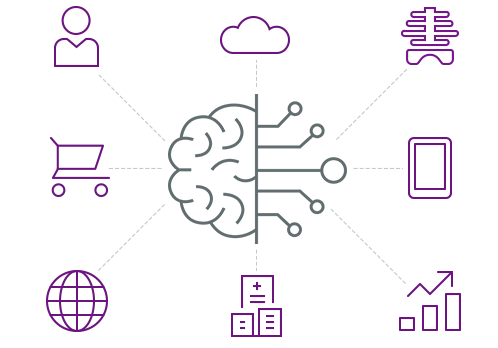 Imagine the unlimited potential of Artificial Intelligence
Turn your AI potential into a practical reality. Leverage a platform to develop, test, validate, and refine. Make your AI service a seamless part of a radiologist's existing workflow. Become a developer on the Nuance AI Marketplace for Diagnostic Imaging.
Porter Research report reveals how radiologists see AI and PowerScribe One impacting radiology
Hear firsthand from practicing radiologists how they view the role that AI and the cloud must play, the anticipated benefits of solutions like Nuance PowerScribe One, and how these innovations can advance the practice of radiology.
Get our latest resources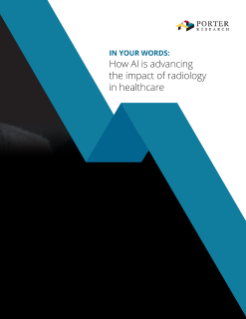 (pdf. Open a new window)
Accelerating the development, deployment, and adoption of AI for radiology
The AI Marketplace for Diagnostic Imaging offers AI developers a single API to connect their algorithms with radiologists across 9,000 healthcare facilities that use Nuance PowerShare Network to exchange and share medical imaging. And through the AI Marketplace storefront, developers can showcase their innovations so potential users can explore the possibilities that AI brings to radiology.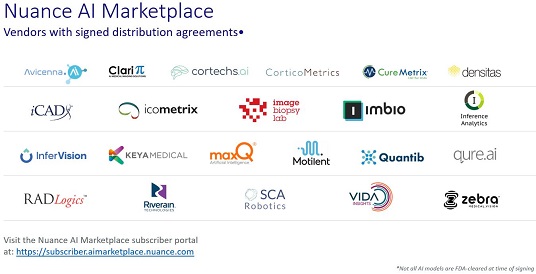 (Open a new window)
Benefits
Unparalleled benefits for developers
Nuance is uniquely positioned to help radiologists transform healthcare by harnessing the power of AI. With the ability to easily purchase and apply AI services directly within the solutions they use every day, radiologists can alleviate repetitive and mundane tasks, work smarter and more efficiently, and ultimately improve patient care. By partnering with Nuance through the AI Marketplace you gain industry insight and connections that drive the next generation of AI-powered radiology.
Speed and ease to market
Improve speed and reduce cost to bring AI services to market. A single, convenient storefront presence simplifies deployment and eliminates costly go‑to‑market overhead.
Market at scale
Gain immediate visibility and access to radiologists across 9,000 connected healthcare facilities who trust Nuance as a valued partner to deliver quality solutions.
Continuous learning
Receive feedback on AI performance based on the final report accepted, across the industry's broadest user base.
Tight, standards-based integrations
Leverage standards‑based connectivity to the AI Marketplace and Nuance radiology applications including PowerScribe One, PowerScribe 360, and PowerScribe Workflow Orchestration. Avoid multiple, non‑standard integrations to varied PACS/viewer vendors.
How it works
Why develop for the
Nuance AI Marketplace?
Design a powerful AI experience
Get access to cutting-edge AI development tools, including NVIDIA's deep learning platform to develop and test your AI services.
Get published and
discovered
Publish your approved and validated services for use by the 20,000+ radiologists who trust Nuance for their reporting workflow.
Gain a feedback
channel
Leverage a user feedback loop for continuous AI service improvement and real-world market insights.
Get inspired
Make their success your new reality
Whether you are looking to drive earlier disease detection, automate radiology workflows, or provide decision support tools to improve patient outcomes—we are here to help. See how some of our development partners are fundamentally changing the way radiology workflow can be augmented and assisted through AI. Integrate your AI services into radiology workflows for use by providers across the country. Get started with the Nuance AI Marketplace for Diagnostic Imaging.