Optimize your CDI program
We meet you where you are in your CDI journey, with AI‑driven documentation integrity solutions that meet your needs. In‑workflow intelligence keeps the patient at the center of the story, supporting quality outcomes and appropriate reimbursement.
Combat CDI challenges
Achieving your quality goals with limited CDI resources can be a challenge. Learn how AI‑driven technology can help.
Benefits
Improve CDI team efficiency, collaboration, and impact
Focus on the most impactful cases
With AI‑powered prioritization, CDSs have access to worklists that take the guesswork out of where to start. Documentation opportunities and clinical evidence determine where the greatest improvement opportunities are, driving maximum impact.
Collaborate better
CDE One promotes a better care team experience by fitting within existing workflows. Electronic clarifications allow CDSs to send and manage queries directly from CDE One, while clinicians can access queries from a centralized inbox in their EHR. Responses are automatically displayed in CDE One, promoting streamlined collaboration and faster follow‑up.
Increase confidence
Supported by over 250 clinicians, 4,000 clinical and coding references, and 30 years of experience, CDE One puts proven, clinically‑focused documentation strategies at your fingertips, providing guidance and added assurance in documentation quality.
Maximize program effectiveness
Actionable intelligence with real‑time insights gives you the power to measure success, analyze peer comparisons, and pinpoint opportunities to improve your program.
Drive better quality and patient outcomes
AI for clinical documentation integrity, delivered in the workflows you already use. Hosted on HITRUST CSF‑certified Microsoft Azure for end‑to‑end security, privacy, and compliance.
Delivering documentation excellence in the cloud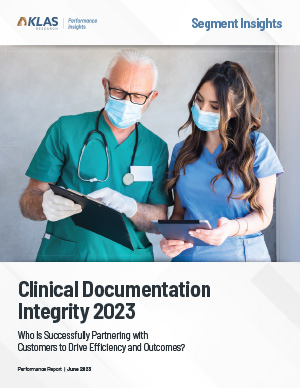 Nuance outperforms other CDI vendors
Discover why KLAS recognizes Nuance as the leader in driving customer efficiency, outcomes, and overall satisfaction.

#1 AI Powered and Cloud Based Provider from Black Book
Nuance ranked #1 in 2022 for its leadership in CDI for the ninth consecutive year.
Features
Flexibility to adopt just what you need—and nothing you don't
Nuance can tailor your program to fit your current needs and future aspirations.
Prioritized worklists
Pinpoint opportunities for improvement faster. Real‑time updates identify charts with the greatest financial/quality impact opportunities and reduce your exposure to post‑bill audits.
Evidence‑based content
Reduce time spent researching clarifications with access to codebooks, coding clinics, and over 750 proven clinical strategies—all in one place.
CDS Assistant
Quickly find the source of clinical evidence in the patient record. A centralized, integrated CDS Assistant offers transparency into clinical findings, diagnoses, and procedures.
Focus on principal diagnoses capture
Go beyond missing CC/MCCs to accurately reflect the patient's Severity of Illness and Risk of Mortality.
Denials management
Reduce denials due to missing information through the use of clinical strategies and visibility into all clinical evidence.
Integrated with Inpatient Guidance
CDSs can easily view both the clinical evidence and physician's response to front‑end guidance, increasing transparency and collaboration.
Worksheet templates
With worksheet templates, CDSs can better organize patient information to increase the speed of collaboration and follow‑up. Worksheets feature a customizable scratchpad to support compliant clarifications.
Proactive query management
With a customizable worklist, CDSs have visibility into the current state of outstanding queries to prioritize and proactively manage responses across medical staff and accurately reflect provider metrics.
Visibility into DRG impact
Use the AI‑sourced possible DRG, code search, and MS and APR‑DRG calculations to see the real‑time impact on reimbursement as the DRG is refined by the CDS.
Pre and post‑discharge review
Double‑check before billing with additional prioritization logic for your worklist. Capture all CC/MCCs and identify cases that have exceeded their LOS.
Advanced analytics
Out‑of‑the‑box reporting provides encounter‑level, facility‑level, and enterprise‑wide insight into overall program performance and peer benchmark comparisons.
CDI and Coding reconciliation
Ensure your CDSs and Coders are collaborating and proactively reconciling cases so that all concurrent queries are taken into consideration and codes are billed appropriately.
Better experience for your team
89%
Agree CDE One is easy to use
9of10
Agree CDE One increases productivity
94%
Agree the resources in CDE One support professional development
Ready to take your CDI program to the next level?
Speak to a clinical documentation specialist today.