Get the credit you deserve for the care you deliver
Capture the complexity of the patient's condition with in‑workflow intelligence delivered at the point of care. Accessible through Dragon Medical One and integrated seamlessly with your EHR, Inpatient Guidance for Dragon Medical Advisor enables clinicians with real‑time guidance that eases information access, streamlines clinical workflows, and minimizes rework.
Maximize documentation quality with minimal effort
Nuance's AI‑driven Inpatient Guidance is a computer‑assisted physician documentation (CAPD) solution that delivers evidence‑based guidance in a streamlined workflow. Sophisticated AI synthesizes information across the patient encounter for evidence of undocumented diagnoses, unexplained clinical findings, and opportunities for increased specificity.
Timely, impactful guidance delivered at the point of care supports accurate documentation to reflect the true acuity of the patient. As a result, organizations can see improved quality outcomes that appropriately reflect the care provided.
Get our latest resource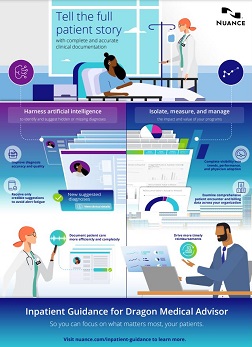 Named Best in KLAS 2023 for Computer-Assisted Physician Documentation, driving documentation accuracy and better quality outcomes across care settings.
Benefits
Impact across the organization
Backed by decades of clinical data, our proven AI promotes accurate documentation to support quality outcomes and appropriate reimbursement.
Quickly and easily identify undocumented diagnoses, unexplained clinical findings, and opportunities for increased specificity to support accurate documentation. AI analyzes the encounter to ensure a comprehensive view of patient acuity, supporting better quality outcomes across expected mortality, readmissions, complications, and more.
Drive appropriate reimbursement
Accurate documentation drives appropriate reimbursement faster while reducing denials due to missing clinical information. Manage the impact and value of your investment with analytics that examine comprehensive patient encounter and billing data across your organization.
Streamline clinical workflows
In‑workflow intelligence delivered at the point of care allows clinicians to quickly find the source of evidence without leaving the patient chart. Quick access to previously documented information reduces time spent navigating the patient record, optimizing efficiency.
Nuance AI in action
The right guidance, delivered at the right time
Discover how Nuance's data‑driven guidance is strategically focused to maximize impact and minimize disruptions.
Explore how to leverage AI to provide a comprehensive view of patient acuity and identify undocumented and unspecified diagnoses.
Explore how improving the accuracy and quality of diagnosis capture requires a thorough review of all patient documentation.
Explore how Inpatient Guidance analytics allows you to demonstrate and optimize the value of your investment.
Features
Proactive & patient‑focused approach
Impact‑based intelligence
Guidance is strategically focused on the diagnoses that drive the most quality and financial impact. With an emphasis on outcomes, Inpatient Guidance allows clinicians to focus their efforts on documentation gaps that have meaningful improvement opportunities, mitigating alert fatigue. Carefully curated guidance optimally balances the physician experience against outcomes.
In‑workflow intelligence is seamlessly integrated with the EHR and delivered through Dragon Medical One, easing information access so that clinicians can keep the patient at the center of the story.
Integrated view of clinical evidence
An integrated document viewer highlights supporting clinical evidence for transparency into the source of AI findings. Clinical content is continuously updated and enriched by our best‑in‑class team of documentation experts so that clinicians can review AI findings with confidence.
Nuance Inpatient Guidance Analytics
Understand, analyze, and optimize across the enterprise
Scalable, customizable, and intuitive dashboards offer visibility into the impact across financial reimbursement and quality outcomes at both the site and facility level. Usage and adoption reports provide valuable insight into provider utilization while pinpointing opportunities for program improvement.
An analysis of CareChex data found that Nuance customers achieved impressive outcomes above the national average.
45%
better than average in O/E Mortality
Complementary solutions
AI‑driven workflow for documentation quality and improvement
Identify key intervention opportunities and risk factors without the need to sift through large volumes of data. Discover how to create a more coordinated, proactive, and compliant practice with Outpatient Guidance for Dragon Medical Advisor.
Learn how in‑workflow guidance helps surgeons with actionable intelligence that supports appropriate reimbursement, patient safety, and quality outcomes.
Harness the power of AI to optimize your CDI program and drive outcomes. Explore how to enhance productivity, streamline and prioritize workflows, and foster better collaboration with Nuance CDE One.
Ready to explore the connection between accurate documentation, streamlined clinical workflows, and improved outcomes?