Improve care quality and HCC risk adjustment with Outpatient Guidance
Dragon Medical Advisor with Outpatient Guidance enables CDI teams and physicians to capture a broader picture of each patient's chronic conditions, looking beyond the obvious to create a more coordinated, proactive, and compliant practice. For those organizations contemplating risk‑based contracts, establishing a foundation of clinical documentation excellence provides critical support needed for success.
Close the gaps in outpatient care
Nuance's AI‑driven Outpatient Guidance is a computer‑assisted solution that helps identify patient risk and intervention opportunities while capturing and recapturing important Hierarchical Condition Categories (HCC). It is a personalized, proactive, and patient‑focused approach to wellness and chronic disease management.
Get our latest resources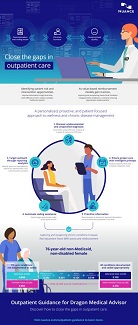 Named Best in KLAS 2023 for Computer-Assisted Physician Documentation, driving documentation accuracy and better quality outcomes across care settings.
A patient‑focused approach to wellness and chronic disease management
Learn how Nuance's AI‑driven Outpatient Guidance identifies patient risk and intervention opportunities.
Explore how Outpatient Guidance provides the ability to capture and recapture chronic conditions, increasing Risk Adjustment Factor (RAF) scores.
Explore how Outpatient Guidance uses Artificial Intelligence to accurately identify evidence of chronic risk‑adjusted conditions and provides a comprehensive workflow support that enables your organization to ensure that HCC gaps are quickly surfaced, appropriately documented, and reviewed.
Explore how Outpatient Guidance delivers advanced analytics so care teams can understand trends and improvements in HCC capture across their organization—and the overall impact through claimed codes.
Benefits
Optimize patient outcomes
Improve physician efficiency
Outpatient Guidance augments EHR workflow by presenting the right advice at the right time to help physicians improve documentation, add diagnosis specificity, and efficiently document all conditions for proper HCC capture.
Prepare physicians and ensure your documentation supports taking on additional risk‑based contracts. Relevant guidance and consultative program support help improve care, create more complete documentation, reduce denials, and promote proper reimbursement and more accurate RAF scores.
Outpatient Guidance helps CDI and care teams quickly analyze volumes of historical medical records and claims to proactively schedule patients and guide the physician in creating more detailed documentation to close gaps in care.
Features
Access to features that matter most
CDI and care management teams can review patient outcomes, improve the accuracy of RAF scores, and proactively manage denials while monitoring to improve overall program performance.
AI drives proactive evaluation of patient information, including structured and unstructured data and prior claims, evidence of chronic/risk-adjusted conditions, and other quality improvement opportunities.
Physicians can efficiently create documentation in their preferred workflows, including Nuance Dragon Medical One. Outpatient Guidance helps physicians accurately identify and document all relevant conditions at the point of care.
Automated coding assistance makes it easy for providers to search and choose appropriate codes and add to charge router to ensure codes are included in the claim.
Professional services
Consultative advice to design your program
Each organization is unique, and any technology, content, or analytics implemented should match program goals and readiness—while laying a foundation for future growth. Our team of experts offer all the support you need to plan, deploy, and adopt our solutions to help you achieve clinical documentation excellence. Let our team help you plan the level of education, leadership training, and ongoing support needed to maximize the return on your investment.
Process improvement
Through training, demonstrations, and coaching, our experienced consultants help your team establish a mutual understanding of the program and the implications of value‑based care. We will help establish a governance/steering committee to keep your program on track.
Change management and physician alignment
Change management strategies and meaningful incentive programs encourage physician acceptance and participation to support MACRA and new payment models in alignment with organizational goals.
Program health checks and continuing education
Our team will help improve your team's impact on risk adjustment and quality scores through quarterly performance reviews and ongoing education.
Complementary solutions
Achieve even more
To support your journey to clinical documentation excellence, Nuance solutions work together to connect and foster collaboration.
Clinical documentation excellence solutions for CDI teams.