Check up on your patients, not your documentation
Empower surgeons to make clinical documentation easy and effortless. Nuance Surgical CAPD learns surgeons' documentation patterns—improving efficiency immediately and over time—and reduces billing time by 75%.
On‑demand video
How in-workflow surgical CAPD impacts physicians and hospitals
Discover how Nuance Surgical CAPD is changing the way physicians capture, leverage and deliver patient information.
Why Nuance Surgical CAPD?
Powered by AI. Built for outcomes.
The rules around clinical and surgical documentation are constantly evolving. In-workflow guidance adapts to keep up with changing requirements while mobile and speech solutions improve efficiency.
Surgeons waste an extraordinary amount of time on repetitive administrative tasks. Nuance Surgical CAPD leverages learned behaviors along with existing clinical information to improve efficiency, streamline documentation & coding.
Care and coding teams depend on the timeliness of quality information. Nuance Surgical CAPD connects and immediately delivers clinical documentation and coding data to many popular office and hospital EMRs.
Reduce billing time by 75%
Save time by creating a specific and compliant report that reduces billing time by 75%, reduces disruptive retrospective queries and automatically sends a charge report to your office. See how Nuance Surgical CAPD(pdf. Open a new window) can impact your documentation workflow.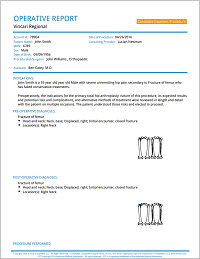 From Non-Procedural Reports (H&Ps, Consult Notes, Progress, Discharge Summaries) to Procedural (Operative, Endoscopy, Cath Report, etc.), Nuance Surgical CAPD makes creating and delivering electronic clinical documentation simple.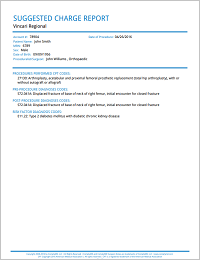 Generated from all clinical documentation, Nuance Surgical CAPD creates a suggested charge report immediately available upon eSign.
Benefits
For hospitals, surgery centers and physician offices
Real-time advice presented at the point of care
Capture more specific and compliant details
Accelerate the revenue cycle
92% reduction in coding queries
Immediate decrease in DNFB
Automated charge capture report sent to the surgeon's office
Documentation and coding gaps disappear, bills can be ready in just 2 hours
One pass documentation and charge capture
Case tracking and discrete data capture for research and analytics
Provides care team with immediate access to detailed full report without waiting for transcription
Personalized workflows make it easy to learn and use Dragon Medical One to quickly capture narratives
Mobile app to review schedules & capture notes on the go