Modernized transcription
eScription One, our cloud‑based, secure transcription platform hosted on Microsoft Azure, automates workflows and makes in‑house or outsourced transcriptionists more efficient. Whether dictating on a mobile device, recorder, or telephone, clinicians can provide patient-focused care, quickly record high‑quality patient narratives, and move on to their next patient.

Benefits
Capture clinical documentation more efficiently
Time is on your side
eScription One intelligent speech recognition software generates formatted draft documents that medical language specialists (MLS) can quickly review and edit—doubling productivity as compared to manual medical transcription.
Technology is on your side
Alongside our EHR integration partners, our experienced design team has created more than 1,500 interfaces, allowing healthcare providers to continue dictating while taking full advantage of an implemented EHR. Comprehensive documentation helps ensure appropriate coding, reduces claim rejections and improves financial integrity.
We're on your side
eScription One provides customers with superior security and reliability while reducing the need for hardware investments and reliance on IT resources. Remote management of software offers ongoing maintenance and automatic upgrades without requiring customer involvement or downtime.
eScription One mobile application
Documentation in the palm of your hand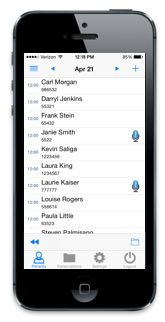 eScription One features an easy‑to‑use mobile app where providers create, review, edit, electronically sign and automatically print or fax documentation—anytime, anywhere—with the touch of a finger.

Rather than navigating the EHR during an exam, physicians can focus their attention on the patient.
Features
Award‑winning transcription solutions

Nuance ranked #1 in 2020 for its leadership in medical transcription for the eighth consecutive year. Learn more
Mobility for maximum productivity
eScription One mobile allows clinicians to manage their documentation workload and access patient schedules and inpatient lists in real time. Clinicians quickly dictate, review, edit, and route documentation—all from the palm of their hand.
Workflow control
Browser‑based applications provide visibility into the entire transcription workflow—from data capture to patient billing. Monitor, manage and automate the documentation process in real-time and accelerate access to data in the EHR.
Reliable and accurate
An enhanced speech recognition engine combines with industry‑leading Clinical Language Understanding technology to quickly transformed dictations into constructive drafts. Over 90% of dictated content is processed by a computer, shortening turnaround times and improving clinical documentation quality.
One with the EHR
Customized interfaces safely and securely transmit ADT information, patient schedules, inpatient lists and clinician directories to auto‑populate patient documentation. Advanced EHR integration identifies discrete information within the clinical narrative and uploads customized exports directly into the EHR—eliminating errors and reducing risk.
Superior performance
Up-to-date system management and deployment tools combine with optimal data backup, redundancy and stability to offer 24x7 accessibility with 99.999% up‑time.
Secure solution
The eScription One environment runs on geographically dispersed, active‑active, data centers hosted on Microsoft Azure, a HITRUST CSF certified hosting infrastructure. Continuous backups and 256‑bit Secure Socket Layer (SSL) encryption and decryption protocols protect data. Our proactive security strategy includes weekly scanning, monitoring and analysis to protect against potential cyber‑attacks and system failures.
Nuance Transcription and Technology Services
Nuance transcription technology:
A platform for greatness
For MTSOs and institutions with in‑house transcriptionists, eScription One transcription technology optimizes document creation and management. An interactive online dashboard allows administrators to easily analyze and adjust workloads. Managers monitor and strengthen individual transcriptionist performance with Automatic Quality Assurance workflows while innovative platform resources double productivity and heighten accuracy.
Nuance Transcription Services (NTS): A hands‑on partner
Accurate, timely transcription is critical for clinical documentation‑and the clinical and financial outcomes it drives. Outsourcing transcription to Nuance Transcription Services frees up valuable time for your department to focus on other priorities. As the largest medical transcription services organization, we process 5 billion lines of transcription annually with thousands of proven and tenured MLS professionals. We handle all the details to save you time and money.
Ready to talk about a more accurate and productive approach to transcription?
Contact us to speak to a specialist