Document complete patient care—anytime, anywhere
Cloud‑based HITRUST CSF‑certified speech recognition solution that provides a consistent and personalized clinical documentation experience across solutions, platforms, and devices regardless of physical location. This allows clinicians to use their voice to securely capture the patient story more naturally and efficiently—anywhere, anytime.

#1 Best in KLAS Award for Speech Recognition (Front-end EMR)
Dragon Medical One named 2021 Best in KLAS: Software & Services award winner earning praise from clinicians for helping them deliver and document better patient care.

#1 AI‑Powered and Cloud‑Based Provider from Black Book
Nuance ranked #1 in 2021 for Speech Recognition and Clinical Intelligence Solutions for second consecutive year.

FedRAMP Authorized Solution
Dragon Medical One is now listed on the FedRAMP Marketplace as Authorized and is ready for procurement, authorization, and deployment.
Boost clinician productivity and efficiency
Nuance Dragon Medical One is a secure, cloud‑based speech platform for physicians and other clinicians to securely document complete patient care in the EHR.
Benefits
Achieve higher quality documentation and greater flexibility
The patient story should be dictated by clinicians, not technology limitations. Conversational AI empowers physicians to document more naturally.
Always available
Dragon Medical One is designed for speed, accuracy, and flexibility, with personalized vocabularies and templates that can be accessed and shared across the widest range of devices in the industry.
Greater accuracy
Achieve 99% accuracy with no voice profile training required, and a single cloud‑based profile that is auto‑established at first use. Manual activities such as accent adjustments and microphone calibration, are now automatic, providing greater accuracy, a lower word error rate, and an optimal clinician experience from the start.
Easy to install and maintain
No complex configurations; clinicians can begin dictating in less than five minutes using your existing infrastructure. Automatic updates mean less work for your IT staff and less hassle for your clinicians.
Budget friendly
Affordable subscription‑based pricing with little upfront capital investment makes it easier for healthcare organizations to plan budgets with predictable expenses.
Automate high‑value clinical tasks
To improve the exam room experience, Dragon Medical One supports virtual assistant workflow. This collaborative technology will automate high‑value clinical tasks and intelligent retrieval of information from the medical record.
Features
Portability, personalization, access, insights and compatibility
Get clinicians up and running immediately across clinical workflows, care settings, devices, and apps for a seamless, consistent, and personalized voice experience.
Portability
Provides secure, accurate and portable cloud‑based clinical speech recognition across a wide range of Windows® devices and is compatible with all leading EHRs. When paired with PowerMic Mobile, clinicians have even more freedom to dictate from virtually anywhere.
Built-in productivity
Comes standard with built in productivity tools and access to speech‑enabled workflows in supported mobile productivity apps, at no additional cost, including Dragon Medical Clinical Calculators, which easily compute various scores and indices within a user‑friendly interface.
Integrated CAPD
Users with access to Dragon Medical Advisor enjoy greater benefits from evidence‑based guidance when adding important details to existing diagnoses and discovering evidence of undocumented and unspecified diagnoses.
Embedded virtual assistant capabilities
Clinicians can now retrieve clinically relevant information with clinical content search using UpToDate® by Wolters Kluwer. This integrated skill allows users with UpToDate Anywhere licenses to ask natural language questions such as "Hey Dragon, search UpToDate for pediatric hypertension treatment options," and "Hey Dragon, what are common symptoms of rosacea on UpToDate?"
Actionable insights
Dragon Medical One Analytics offers a self‑service portal that provides utilization data, adoption trends, and peer benchmarking tracking to ensure user efficiency and help with the design of action plans for improvement.
Hands‑free convenience wake‑up word and always listening
Offer clinicians better control, ease of use, and greater freedom, allowing them to simply say "Hey, Dragon" to turn on the microphone, and completely eliminate the need for manual controls or clicks with always listening.
Watch one of Dragon Medical One's most powerful features—wake-up word—in action and turbocharge your documentation productivity.
Video testimonials
Dragon Medical One real‑world use cases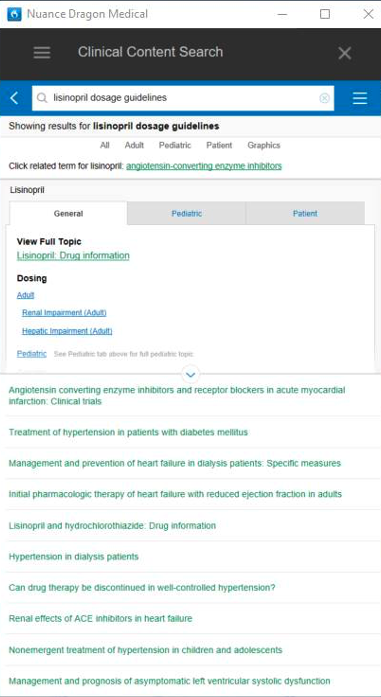 Featured virtual assistant skill
Clinical Content Search with Wolter Kluwer's UpToDate®
Now available—part of a new series of voice assistant tools in Dragon Medical One, the new embedded skill, Clinical Content Search, uses conversational intelligence to connect clinicians directly to relevant clinical topics when they ask natural questions such as, "Hey Dragon, search Up‑To‑Date for COPD symptoms."
The new skill can help clinicians retrieve information in UpToDate, such as medication dosage schedules, disease states, drug interactions, clinical calculators, side effect symptoms and other continuously updated clinical content. Over 90 independent research studies have shown it is associated with improved outcomes—including reduced lengths of stay, fewer adverse events, and lower mortality.
This voice assistant skill for Dragon Medical One is available at no additional cost for Dragon Medical One clients with an UpToDate enterprise license.
Extend the reach of your investment
Nuance PowerMic Mobile
Turns any workstation into a dictation station and gives clinicians the freedom to document notes using their smartphone as a secure wireless microphone.
Nuance Dragon Medical Advisor
Nuance Dragon Medical Advisor engages physicians at the point of care with evidence based advice that fits naturally into existing physician workflows through Dragon Medical One.
Nuance Clinical Service Desk
Resolve clinicians' how‑to questions the first time with Nuance Clinical Service Desk (CSD).
Speech recognition accessories
Complementary solutions that allow you to be even more productive and focus more attention on patient care
Find out more

(Open a new window)
Ready to take your documentation to the next level?
Contact us to speak to a specialist.