Improve EHR usability and care team productivity
Prescriptive game plans heighten user efficiency and take full advantage of EHR and Nuance system functionality.

Spend less time interacting with the EHR
Integrated support tools and correlated training can improve the EHR experience to increase clinician productivity, better documentation quality, and achieve true return on your investment.
Get our latest resource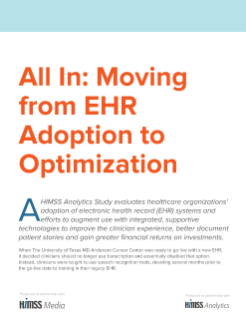 (pdf. Open a new window)
Services
Areas of focus
Our full spectrum of packaged optimization solutions offers exciting opportunities to increase satisfaction, productivity and revenue.
Clinical workflow
Maximize efficiencies and minimize work by addressing the specific needs of each user role within the various EHR applications.
Specialty physicians, nurses, ancillary staff, techs
\Ambulatory practices, emergency department, lab systems
Nuance solutions (Dragon Medical, Dragon Medical Advisor)
Patient access and revenue
Improve documentation quality, advance patient safety, manage denials and accelerate reimbursement with functional and workflow adjustments that maximize EHR use across roles and workflows.
Centralized scheduling, registration, patient screening, tracking, decision‑trees, best practices
Revenue cycle including hospital billing, professional billing, claims, and denial management
Coding, compliance, reporting
Patient experience
Grow patient engagement and patient portal value by evaluating workflows, functions and usability from the clinician, staff and patient perspective. Decrease service desk calls, ease staff workload and enhance the patient experience.
Support options (chat, password reset protocol)
Questionnaires for screening, eVisits, and insurance capture
Patient notifications
Self‑service tools
Telehealth
Features & benefits
Keys to unlocking efficiencies
Assessment
By observing EHR use and completing a thorough analysis of EHR build, workflows, applications, and system functionality, our staff gains an understanding of baseline performance opportunities for improvement.
Recommendations
Our breadth of knowledge drives strategies designed to achieve productivity goals. Tactics can include: introducing mobile technology, standardizing templates, simplifying access to common functions, quickening documentation with voice‑driven Nuance technology, or establishing protocols to ensure staff responsibilities are appropriate.
User enablement
We ensure users take advantage of new efficiencies by designing and delivering a customized training program for each relevant user role.
Evaluation
We monitor progress with our analytic reports that track KPIs (e.g., time spent in chart, clicks, user satisfaction, etc.) to inform additional initiatives and demonstrate value for services.
Incredible outcomes start here…
$3K
average efficiency value per physician per month from EHR optimization
28%
less time spent on after-hours documentation
41%
increase in physician productivity through EHR optimization
15-60
minutes reduced screen navigation time per physician per day
30
seconds less time spent completing a patient review of systems
75%+
of ambulatory patient charts closed in less than 2 days
Career opportunities
Join our team
Are you passionate about making the EHR work to its finest? If you are ready to join a dynamic team and value delivering excellent customer outcomes, explore what Nuance has to offer.
EHR project-based positions