Mixing dictation with typing
In this topic, learn how to:
Find out what Dragon can do in your current application
What applications support mixing dictating and typing
What it means if you are dictating in an unsupported application
What to do if your cursor is jumping to the wrong place
Dragon allows you to dictate text in virtually any application. In order to use commands such as Select <text> or Correct <word>, Dragon needs to know where your cursor is within the document. In some applications, including Microsoft Word 2011 or 2016, Microsoft Outlook 2016, and TextEdit, Dragon can always get that information, even if you use your keyboard and mouse to change text while you are dictating. Some applications, however, do not allow Dragon to find out whether you have moved your cursor. If you dictate in these applications, avoid using your mouse or keyboard.
Dragon notifies you when you are dictating into an application that does not support typing while dictating.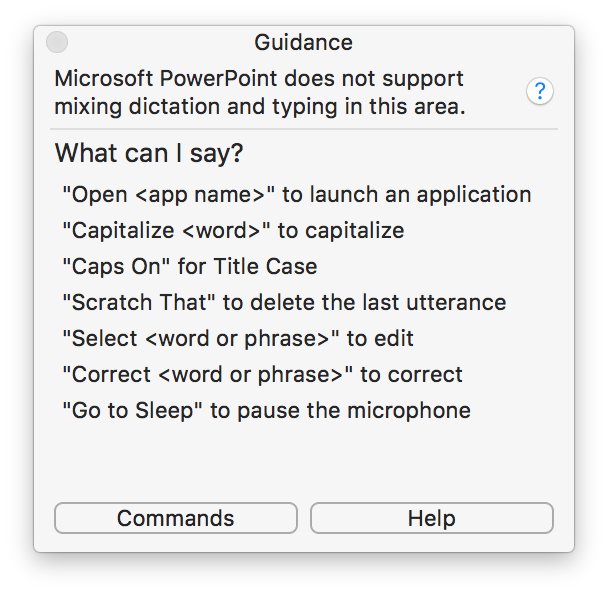 To make sure you see these notifications:
Say

Show Guidance Window.

Or

Click the icon in the menu bar and select

Show Guidance

.
If you use your keyboard or mouse to edit your text or move your cursor within the text, you may lose access to certain features, such as editing text or using Correction.
What applications are supported?
Dragon is working to support as many applications as possible. Check this page for updates to the supported applications list.
| Supported | Not supported* |
| --- | --- |
| Address Book | Apple Mail |
| Keynote 6.6 or later | BBEdit/TextWrangler |
| Messages | Evernote |
| Microsoft Word 2011 or 2016 | Microsoft Excel |
| Numbers 3.6 or later | Microsoft PowerPoint |
| Outlook 2016 version 15.24 or later |   |
| Pages 5.6 or later |   |
| Scrivener 2 |   |
| Skype |   |
| Slack |   |
| Stickies |   |
| TextEdit |   |

What does it mean if my application isn't supported?

You can dictate into an unsupported application. If you want to dictate into an application that is not on the supported list, you can still dictate text, but try not to use your keyboard or mouse to add or edit text while dictating.

Dragon works with applications that support Apple's Accessibility API. Please check with your applications developer to ask about adding support for Apple's Accessibility API.
*This list is a selection of common applications Dragon is not able to support. Check the Guidance window for information about an application before attempting to mix dictation and typing.
About the cache
If you mix typing and dictating in an unsupported application, Dragon will lose track of where the cursor is, causing unpredictable behavior. If this happens, say Cache document. This command tells Dragon to read the whole document's contents. When it does this, several things happen:
Dragon forgets what it entered in this document.
Dragon throws away its recordings of your voice, so using Correction on existing text is no longer possible.
Dragon reads all of the document's text from scratch. This means Dragon knows exactly what text the document contains.