Dragon supports CJIS Security Policy
Dragon has been audited by Project Hosts to confirm support of Criminal Justice Information Services (CJIS) Security Policy. Hosted on HITRUST CSF‑certified Microsoft Azure U.S. Government cloud environment, Dragon meets U.S. federal security compliance requirements and is authorized by FedRAMP.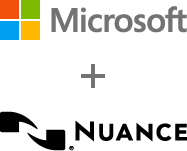 Two‑minute demo
See Dragon in action
Watch this 2‑minute video for a quick demonstration to see how Dragon writes 3 times faster than typing.
On‑demand webinar
How Ogden PD supports officer safety and efficiency
Lieutenant Mike Boone (ret.) shares how he led Ogden, UT Police Department's advanced technology initiative to increase officer safety and efficiency, while reducing staff overtime and costs.
Proven ROI model demonstrates time and cost savings
Secure, easy, and fast with up to 99% accuracy from first use
Increase officer safety and reduce employee burnout
Scalability for budget and number of users
Achieve more with less staff
Staff and budget shortages often prevent officers from having time to effectively engage with their communities. Dragon's proven ROI model saves agencies officer time and costs so they can focus on protecting and serving communities.
Instant Dragon ROI calculator
Join the 400+ law enforcement agencies that use Dragon to achieve more with less resources. You've seen how Dragon's proven ROI saves agencies time and costs with the above client testimonials. Now see for yourself how much Dragon can save your agency with this instant ROI calculator.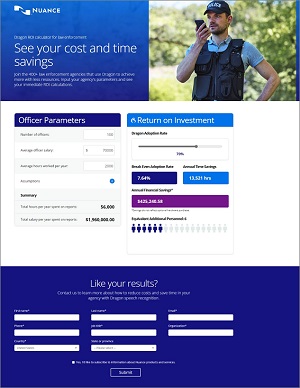 Let us help you optimize officer safety and efficiency
Complete the form below and a Dragon expert will contact you shortly to schedule your demo.