Dragon Law Enforcement | Real world outcomes | Request demo
Achieve more with less staff
Staff and budget shortages often prevent officers from having time to effectively engage with their communities. Dragon's proven ROI model saves agencies officer time and costs so they can focus on protecting and serving communities.
Instant Dragon ROI calculator
Join the 400+ law enforcement agencies that use Dragon to achieve more with less resources. You've seen how Dragon's proven ROI saves agencies time and costs with the above client testimonials. Now see for yourself how much Dragon can save your agency with this instant ROI calculator.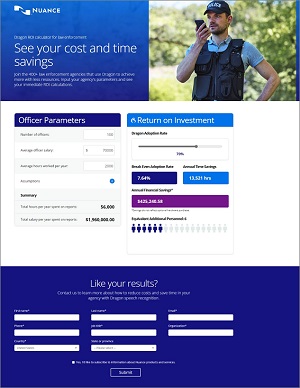 Let us help you optimize officer safety and efficiency
Complete the form below and a Dragon expert will contact you shortly to schedule your demo.