September
Tuesday, September 26, 12:00 pm ET
October
Thursday, October 5, 11:00 am ET
Tuesday, October 17, 2:00 pm ET
November
Thursday, November 9, 1:00 pm ET
Thursday, November 16, 3:00 pm ET
December
Tuesday, December 5, 11:00 am ET
Tuesday, December 19, 1:00 pm ET
The session will be approximately 30 minutes. The session is not recorded.
Learn more about future workflow‑integrated capabilities
Built on proven AI solutions that have consistently delivered value and outcomes for physicians, specialists, and care teams for decades—further automate complex workflows and mundane tasks, surface key details, and identify missing information to support patient care.
Better patient‑physician experience, all around.
Proven solutions enhanced with generative AI
We are combining proven conversational and ambient AI with the advanced reasoning and natural language capabilities of OpenAI's GPT‑4 to further automate complex workflows and support better patient care.
Announcing DAX Express
Nuance DAX Express is the next milestone in an expanding portfolio of solutions combining OpenAI's GPT‑4 with proven workflow‑integrated technology.
Microsoft at HIMSS23
See how the unique capabilities of Microsoft Cloud for Healthcare empower meaningful outcomes across the healthcare journey.
Microsoft + Nuance offer the AI solutions you need to drive better decision‑making, improve physician and patient experiences, create more meaningful connections, and produce tangible results. Join the livestream to experience how together we help providers engage with patients more effectively at every stage of the health and wellness journey.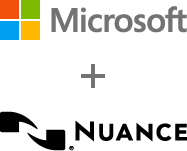 Join a virtual session
Fill out the form below to see a new era of intelligence‑infused healthcare experiences in action.
MEDICAL DEVICE DISCLAIMER. DAX Express[1] (1) is not designed, intended or made available as a medical device, and (2) is not designed or intended to be a substitute for professional medical advice, diagnosis, treatment, or judgment and should not be used to replace or as a substitute for professional medical advice, diagnosis, treatment, or judgment.