PowerScribe One Radiology Reporting
Nuance delivers an unrivaled radiology reading experience with PowerScribe One
See how PowerScribe One delivers the radiology reading experience of the future. It combines ambient, conversational AI, structured data, workflow automation and real‑time data synchronization to improve radiologist satisfaction and patient care.
What's new in PowerScribe One
Purpose‑built and redesigned from the ground up
PowerScribe One has been completely redesigned with you in mind. A new look and feel—with a more intuitive and visually harmonizing user interface—delivers an unrivaled reporting experience. And our advanced AI‑driven capabilities, powered by the cloud, augment and automate your workflows to drive improved accuracy, quality, and efficiency. Cloud‑hosted speech and language processing provide unparalleled recognition and accuracy while eliminating the need for local profile training and maintenance.
Simplified, modernized look and feel
New dark mode harmonizes with the radiology reading environment
De-cluttered layout makes navigation easier; see what you need when you need it
In‑line notifications and alerts minimize distractions
Intuitive functionality and information access
Advanced language understanding technologies drive automated decision support
"In‑report" notifications and advice help minimize errors and inconsistencies
Smart Assist provides users with a dynamic checklist of alerts and suggestions
Streamlined, time‑saving workflows
Extracts structured data to populate reports and reduce manual data entry
Provides prioritized access to relevant prior reports
Leverages conversational AI and virtual assistant technologies to query data from the EMR and PACS
Modern cloud‑powered architecture
Supports remote and mobile reporting with cloud speech
Reduces IT footprint and maintenance costs
Streamlines updates and delivery of enhancements
Positions organization for future innovations
Feature highlights
Countless capabilities, all included and designed for you
Automatically turn free‑form dictation into organized, structured reports
Harness the power of voice‑enabled workflow control and information retrieval
Real‑time checklist of alerts and notifications
Translucent movable window with key information—so your eyes stay on images
Integrated AI workflow through Nuance AI Marketplace
Automated delivery of follow‑up recommendations to EMR and other systems
Real time, in‑workflow decision support based on report context
Automatic flagging of errors and inconsistencies such as laterality
Ready to transform the radiology reading experience?
Complete the form below to request a PowerScribe One demo.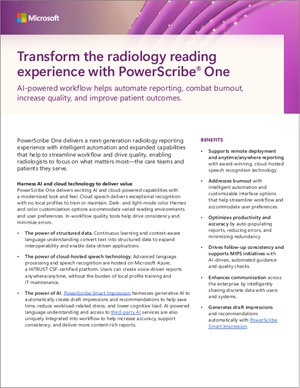 Data sheet: Transform workflow with PowerScribe One
PowerScribe One harmonizes applications radiologists use every day and makes AI useful and usable with the workflow. Read more to understand how.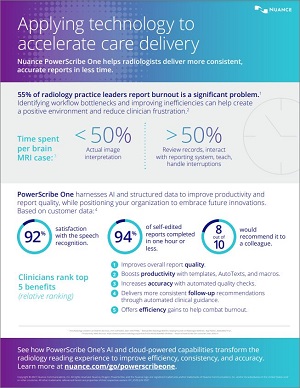 PowerScribe One value infographic
Nuance PowerScribe One helps radiologists deliver more consistent, accurate reports in less time.