Unlock the power of AI
AI is the key to enhancing medical imaging and extracting diagnostic insights from vast quantities of data. Read how amplifying your imaging efforts with AI brings new levels of clinical insight, and how an integrated strategy multiplies the value of AI—from the point‑of‑read to the point‑of‑care.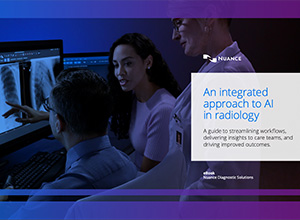 Explore how AI helps in three key areas:
1
Automate what radiologists can't stand
Reduce mundane, tedious, time‑consuming, repetitive tasks.
2
Surface what radiologists can't see
Reveal what the human eye can't see or information that's difficult to find.
3
Identify what radiologists can't miss
Catch ancillary, easy-to-miss details.
Take a look inside!
Complete the form to view the eBook.