Diagnostic Solutions Info Hub
Create an environment where radiologists thrive
A guide to building a powerful imaging strategy with AI driven, real time intelligence.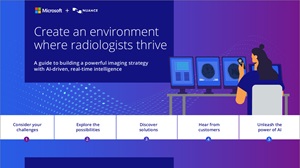 Why radiology teams prefer Nuance
From developing an enterprise AI strategy to enabling greater information awareness, access, and availability, Nuance solutions drive action, quality, and efficiency across all stages of the workflow.
Reza Forghani, MD, PhD, shares the AI strategy at University of Florida Health, radiology's role in this effort, and how Nuance Precision Imaging Network helps deliver value across the organization.
Chivonne Harrigal, MD, Personalized Imaging Consultants, discusses how Nuance's technology and partnership are streamlining the imaging workflow to help increase patient care coordination and accelerate cancer treatment.
PowerScribe One
Revolutionize the reading experience
With a modern design and AI‑powered workflow, PowerScribe One allows radiologists to generate and communicate high‑quality, consistent reports quickly and efficiently.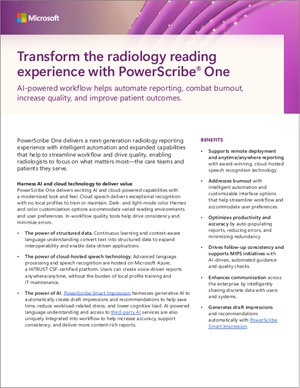 View the data sheet to explore how PowerScribe One AI‑powered workflow reduces burnout, increases efficiency, and improves patient outcomes.
Radiologist and medical director Patrick Browning, MD, describes how cloud speech and the advanced reporting capabilities of PowerScribe One are improving accuracy and productivity at Open System Imaging.
PowerScribe Workflow Orchestration
Modernize your workflow
PowerScribe Workflow Orchestration is a flexible, vendor‑neutral radiology workflow platform that connects disparate systems, eliminates workflow inefficiencies, and prioritizes patient care based on what matters most.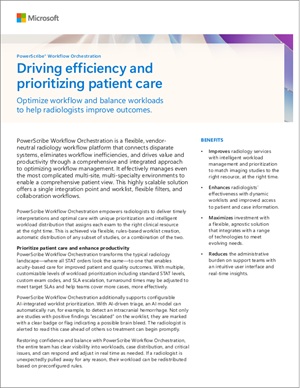 Access the data sheet to explore how to optimize workflow and balance workloads to help radiologists improve outcomes.
Marla B. K. Sammer, MD, shares how PowerScribe Workflow Orchestration is helping Texas Children's Hospital achieve their long-term goal of creating an environment where radiologists can thrive.
PowerConnect Communication Solutions
Simplify communication
PowerConnect communication solutions optimize clinical collaboration, eliminate distractions, and bridge communication gaps for improved patient safety and outcomes.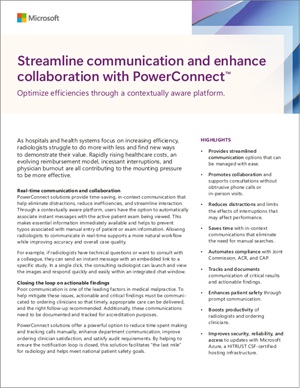 Access the data sheet to explore how to optimize efficiencies through a contextually aware platform.
Mark Thompson, Imaging Systems Manager, Premier Health, discusses how PowerConnect Communicator improves physician satisfaction and streamlines radiology findings communication.
PowerScribe Follow-up Manager & PowerScribe Lung Cancer Screening
Ensure follow‑up adherence
Close the loop on patient follow-up and proactively screen and follow high‑risk patients.
Learn how PowerScribe Follow‑up Manager and Lung Cancer Screening help close the loop on patient follow‑up at Trinity Health Michigan (formerly Saint Joseph Mercy Health System).
Ruth Raleigh, Clinical Quality Project Specialist, shares how PowerScribe Follow‑up Manager and Lung Cancer Screening are helping Trinity Health Michigan proactively track and manage follow‑up compliance.
mPower Clinical Analytics
Gain actionable insights
mPower Clinical Analytics helps radiology organizations uncover insights to drive improvements in clinical, financial, and performance outcomes while facilitating the transition to valued‑based care.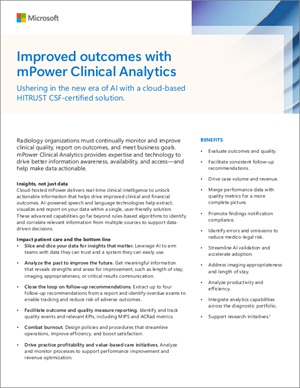 Access the data sheet to explore how to harness AI, advanced language understanding, and cloud technology for competitive advantage.
Juan Jimenez, MD, Associate Medical Director of Radiology at Carle Health System speaks to the value of Nuance diagnostic solutions in optimizing workflows for improved patient care.
Integrated AI Services
Precision Imaging Network
Enable a complete, end‑to‑end AI experience within your existing radiology workflow. Seamlessly contract and deploy AI services and provide a single point of access to essential data that enables precision medicine.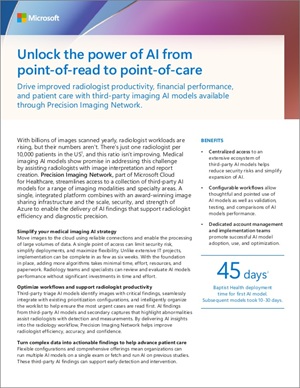 The Nuance Precision Imaging Network™ (PIN) was created to deliver more value to all imaging stakeholders through seamless hosting, integration, and management of partner AI services using a single data‑driven platform.

View the on‑demand webinar to hear from Nuance leaders how to unlock and deliver the most relevant and precise imaging insights while streamlining existing radiology and clinical workflows with Nuance + Microsoft.
See what you + Nuance can do
Complete the form and we'll contact you to schedule a time that works best.