Dragon Medical One resource hub
Current education opportunities
Dragon Medical One Quarterly Education Series
Register for the ongoing quarterly webinar series to hear about the latest feature enhancements of Dragon Medical One, and get refresher training from Nuance subject‑matter experts.


Using Dragon Medical One in Cerner
Wednesday May 4, 2022 at 1:30pm ET

During this session, Nuance CMIO Dr. Reid Conant will guide you through using Dragon Medical One in Cerner's EHR.
Using Dragon Medical One in Epic
Tuesday May 10, 2022 at 1:30pm ET

Epic's Dr. Chris Alban will guide you through using Dragon Medical One in Epic's EHR. In addition, hear from Dr. Ahmed Foda of Temple University the creative ways he drives adoption and utilization of Dragon.
Dragon Medical One Essentials Training
No‑cost small‑group training sessions, no matter what your role. Tracks include:

—Provider Power Hour
—Trainer Talk
—NMC Lab
When clinicians choose Dragon Medical One, they achieve unmatched outcomes
45%
less time spent on documentation
20%
more relevant clinical content captured
3X
faster than typing on a computer
2
hours per day saved on documentation
See what you + Dragon Medical One can do
Dragon Medical One cloud-based speech recognition allows clinicians to use their voice to capture the patient story more naturally and efficiently—anytime, anywhere. With quick and easy documentation, clinicians can enjoy shorter workdays and spend more time with patients.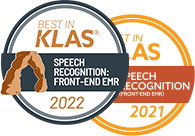 Ranked #1 Best in KLAS for 2 consecutive years
Dragon Medical One named 2022 and 2021 Best in KLAS: Software & Services award winner, earning praise from clinicians for helping them deliver and document better patient care.
Clinician outcomes
Read what your peers and other stakeholders are saying about Dragon Medical One

"Our job is to provide dependable tools so clinicians can work more effectively and efficiently, focusing less on the computer and more on patients. We are pleased to report that the switch to Dragon Medical One was a success—it's a change that's making a huge difference."
Constance Cain
Clinical Analyst
Hattiesburg Clinic

"Our physicians rapidly and overwhelmingly embraced Dragon Medical, citing ease of use and improved documentation. It was the highlight of the project—a win for both the organization and our physicians."
David Parker
Chief Information Officer
Magnolia Regional Health Center

"In the first week, we went to about 12 minutes per call. By the end of the third week, nurses were spending just 6.1 minutes in documentation per call. It's an incredible time savings."
Garvin Eastman
Clinical Information Systems Manager
Concord Hospital
Tools and other resources
A print-ready dual-sided pocket guide with the most commonly used Dragon Medical One commands. Print and attach to your hospital ID lanyard.
A print-ready dual-sided trifold brochure with common commands, instructions for adding words to your vocabulary, making corrections, and best practices for dictating and using a microphone.
A running list of new features rolled out with each new Dragon Medical One release, the release notes and the eLearning modules released with them.
Do you have Dragon Medical One tips and tricks to share, or just want to submit feedback?
Send us a note