Purpose‑built to optimize your workflow
Designed by and for radiologists, PowerScribe One now has a more intuitive and visually harmonizing user interface. AI‑driven capabilities, powered by the cloud, augment and automate your workflow to drive improved accuracy, quality, and efficiency.
See PowerScribe One
Feature highlights
Countless capabilities, all included and designed for you
Ambient Mode
Automatically turn free‑form dictation into organized, structured reports
Virtual Assistant
Harness the power of voice‑enabled workflow control and information retrieval
Smart Assist
View real‑time checklist of alerts and notifications
Cloud Speech
Eliminate profile training and management and optimize remote access options
AI Findings
Integrate AI workflows through Nuance AI Marketplace
EMR Follow-up
Automate delivery of follow‑up recommendations to EMR and other systems
Clinical Guidance
Incorporate real‑time, in‑workflow decision support based on report context
Heads Up Display
Keep your eye on images with translucent movable window with key information
Register now
Complete the form below to view an on-demand demo of PowerScribe One.
PowerScribe One's cloud‑hosted speech recognition delivers more efficiency and accuracy with less provider burnout and IT overhead.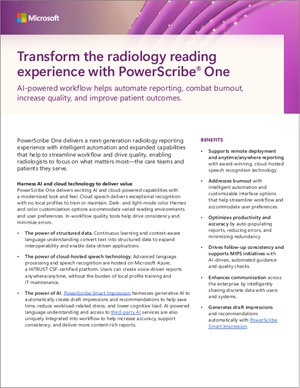 Transform the radiology reading experience with AI‑powered workflow and achieve new levels of efficiency, accuracy, quality, and performance.