Evaluating the ROI of DAX
WellSpan Health and Nuance collaborated on a study to evaluate the impact of DAX on healthcare delivery. The results are significant.
The study found that:
On average, physicians who use DAX for >60% of their encounters saw an additional 9 patients per month, covering the cost with a 25% return on investment from seeing additional patients.
DAX helps reduce physician burnout by minimizing stress and cognitive load, resulting in improved work‑life balance.
DAX enhances the overall patient experience, helping to improve how focused, personable, and engaged physicians were during the care interaction.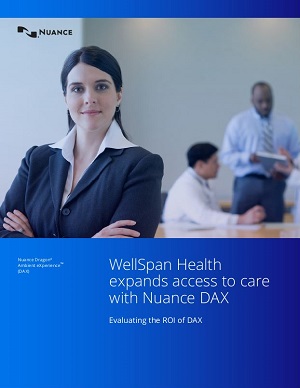 1
Make the case for DAX
Learn about the tangible and intangible benefits realized by WellSpan Health when using DAX.
2
Evaluate the ROI of DAX
Read how WellSpan Health assessed the return on investment of DAX.
3
Achieve the full benefits of DAX
Understand the steps WellSpan Health took to achieve the full benefits of DAX.
Better access to care, all around.
Download the study now.