Next-generation radiology reporting: Transforming patient care
Improve reporting efficiency and accelerate care delivery
In this 30-minute fireside chat, hear from radiologist Joel Mixon, MD, how Birmingham Radiological Group-GV has dramatically increased reporting efficiencies and quality to improve clinician satisfaction and accelerate care delivery. Dr. Mixon shares how PowerScribe One's AI‑driven innovations not only decrease turnaround times but improve report quality so downstream providers can better serve their patients.
During this webinar, you'll learn:
1
How Birmingham Radiological Group‑GV reduced phone interruptions and disruptions with PowerScribe One
2
Ways in which PowerScribe One's structured reporting drives efficiency and accuracy
3
How evidence‑based clinical guidelines in PowerScribe One improve report consistency
4
How efficiencies in PowerScribe One enable radiologists to have more time for clinical discussions with colleagues
View an on‑demand demo of PowerScribe One
Experience the next generation of radiology reporting and communication. PowerScribe One harnesses AI, cloud technology and structured data to bring you new levels of efficiency, accuracy, quality, and performance.
View now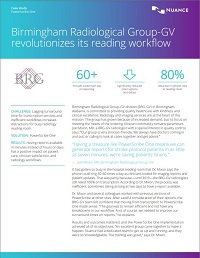 Case Study: Birmingham Radiological Group‑GV
Birmingham Radiological Group-GV revolutionizes its radiology reading workflow with PowerScribe One.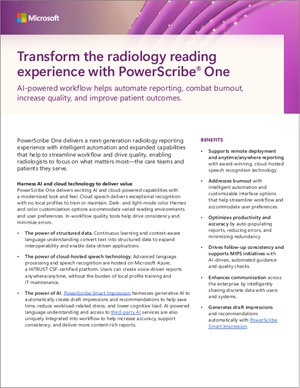 Data Sheet: PowerScribe One
Transform the radiology reading experience with AI‑powered workflow and achieve new levels of efficiency, accuracy, quality, and performance.
Register now
Please complete the form below to access the on-demand webinar and demo.