Better clinical documentation, all around.
For many years, clinical documentation integrity (CDI) was primarily a manual process, beginning with a specially trained nurse or coding professional who combed through paper medical records and retrospectively evaluated clinical evidence to identify potential gaps in the record. Later came concurrent CDI and other advancements, such as applications allowing the clinical documentation specialist (CDS) to create and send electronic queries.
In recent years, AI has transformed the world of CDI through rapidly evolving innovations that supplement CDSs in their role and enhance efficiency.
Download our white paper to learn:
1
AI's role in optimizing CDI & care team efficiency
2
How AI can address CDI's top challenges & enhance provider engagement
3
Key considerations in adopting AI solutions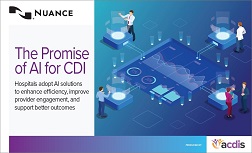 Download the white paper
Fill out the form below to discover how healthcare organizations can enhance efficiency, improve provider engagement, and support better outcomes with AI.