7 ways Dragon Medical One can help transform your clinic
Streamline documentation by creating and sharing shortcuts, AutoTexts, voice commands, and custom vocabularies across individuals, departments, and organizations.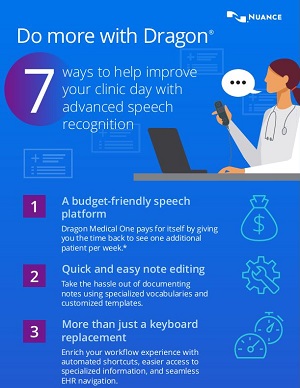 Discover the power of Dragon Medical One
Explore how advanced speech recognition with voice‑enabled workflow capabilities helps you reduce clicks and eliminate time‑consuming, repetitive tasks.
Format, edit, and navigate highly templated notes quickly and easily using natural language commands designed to optimize workflows.
Enhance efficiency and mitigate repetitive data entry with AutoTexts and natural language commands.
Dictate referral letters for a hands‑free, efficient approach to post‑encounter documentation.
Video testimonials
Real-world use cases
Hear from Dragon Medical One users as they share their experience using industry‑leading speech recognition in their everyday workflow.
Michael Greene, MD of Peachtree Spine uses Dragon Medical One Speech Recognition to spend more time with his patients and less time documenting clinical notes.
Dennis Dey, MD, PHD of ProActive Pain and Neurology, LLC documents complex patient histories and speeds documentation turnaround times with Dragon Medical One.
Ready to take your documentation to
the next level?
Buy 1-5 licenses
We make it easy to purchase individual licenses of Dragon Medical One via our Nuance online store.
Order 6 or more licenses
If you are interested in volume licensing, contact us to speak with a Nuance sales representative.
Ready to take your urgent care documentation to the next level?
Contact us to speak to a specialist.