Discover why care teams prefer PowerShare
With more than 14,000 connected facilities, PowerShare offers a unique combination of healthcare expertise, AI technology, and deep integration that drives proven results and unmatched outcomes.
1
Nuance makes connecting easy and secure with over 2B images shared each year across all types of organizations.
2
A high‑value network infrastructure enables rapid deployment, allowing clients to start sharing immediately.
3
A true strategic partner, Nuance has a dedicated outreach team to help promote, support, and optimize usage.
4
Integrations in place make it easy to scale, facilitating interoperability across more PACS, RIS, EHRs, and modalities than anyone else in healthcare.
Accelerating patient care with real‑time image sharing
Aortic Program Coordinator, Marcelo Giarelli, RN, MSN, CCRN, discusses the impact of real‑time image sharing in delivering life‑saving specialty care in an aortic emergency.
Improve the way you work today and power your future
View, manage and share medical imaging and diagnostic reports with healthcare professionals and patients.
Convenient & secure
Easy and secure access to medical imaging at the point of care—anytime, anywhere.
Grow your network
Streamline the network building process by leveraging the largest network of connected healthcare facilities, with BAA agreements already in place.
Lower costs
Reduce costly and unreliable image exchange methods.
Improve patient outcomes
Improve the patient transfer process, streamline treatment planning, and accelerate care delivery.
Enhance care quality
Avoid unnecessary radiation exposure from redundant imaging to improve care quality and patient safety.
Increase revenue
Expand revenue opportunities in key service lines by offering subspecialty or off‑hour reading services and increase referrals by strengthening relationships with referring physicians and other healthcare organizations.
Discover how our clients benefit from the PowerShare Network
Request a demo
Discover how you can reduce the cost of image sharing by 65%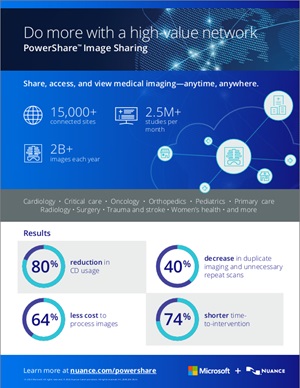 Infographic: PowerShare Image Sharing
Do more with a high-value network.
Data sheet: Nuance PowerShare Network
Access and share medical imaging, build a dedicated community, and identify both new revenue streams and cost-savings opportunities.