Go to the cloud to let clinicians
go anywhere
If you want to increase your level of care, clinical documentation should be as mobile as your clinicians. Nuance provides a suite of tools in the cloud that go wherever they're needed, from the exam room to the lab to the car.

Features & Benefits
Clinical documentation—without limitation
From portability to reliability, there are hundreds of reasons to consider Nuance's cloud and mobile medical solutions. Here are six of the most popular ones.
Right. At the point of care.
By capturing the details while clinicians are still with the patient, you not only end up with better quality documentation, but doctors have more time to spend on what matters most.
Keep pace with doctors.
Doctors are now free to complete patient stories as a natural part of their day—by walking up to any workstation at the clinic or securely accessing the same speech profile from their home office or on the road.
Put your energy where it matters.
Cloud-based solutions save you the time and expense of investing in new infrastructure, training new personnel, and managing upgrades—so you can focus on strategic projects.
Access you can count on.
Our cloud medical solutions feature 99.95% uptime and run on geographically disperse, active-active, redundant data centers. Not to mention geo-location routing and global load balancing for true elastic computing.
Our security is your security.
By leveraging cloud computing services hosted by Microsoft Azure, we're able to focus on delivering solutions with world-class features—like secure communication of speech data over 256-bit encryption channels using TLS protocols into the EHR.
Ripe for the choosing.
We offer cloud and on-premise physician speech and transcription options, so you can select the combination that's best for you. Customers already using Dragon Medical Network Edition can move to the cloud at their own pace and on their own terms.
Cloud Solutions
Making the rounds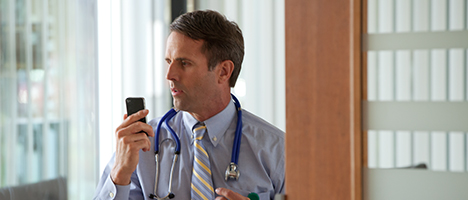 Cloud-based speech recognition
Looking to dictate directly in the EHR?
Use Dragon Medical One to seamlessly document in Epic®, Cerner®, eClinicalWorks, athenahealth®, MEDITECH®, GE®, McKesson® or any Windows or web-based EHR.
Prefer the assistance of a medical transcriptionist?
Our industry-leading transcription platforms handle more than 90% of the dictated volume, so all transcriptionists have to do is edit—an approach that decreases turnaround time and reduces human error.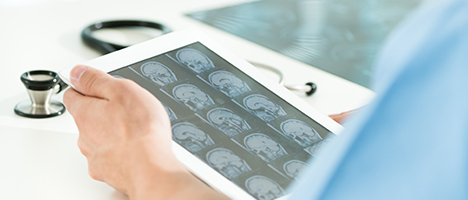 Real-time image sharing
Patients want fast, decisive care decisions. Clinicians need instant access to medical exams and images. Radiologists need to minimize the potential for unreimbursed repeat exams.
The PowerShare Network
a highly scalable cloud-based platform that enables the secure access and real-time sharing of images and imaging data across organizations, desktops, and mobile devices.
Connect to the 2000+ (and growing) healthcare organizations already on the PowerShare Network, and extend your referral network.
We have a dictation platform that's calling your name
The Mobile Clinician
Whether you work at a large IDN or hospital, a smaller regional hospital, or an ambulatory clinic, we have everything your clinicians need to capture the patient story.

Front-end speech recognition
Instead of hunting down a workstation with a microphone, clinicians can use PowerMic Mobile to extend the portability of Dragon Medical—turning any workstation into a dictation station that feeds directly into the EHR. And, in radiology, PowerScribe 360 Mobile Radiologist enables hands-free dictation and report sign-off to capture the essential details needed for diagnostic imaging workflow.
Back-end transcription
Nuance's mobile transcription apps provide portable access to your transcription workflow. And, for the utmost flexibility and choice, Nuance Velocity(pdf) gives clinicians at ambulatory clinics mobile access to both front-end speech recognition and on-demand transcription services, as well as intuitive smart templates.
Voice-enabled EHR apps
Let clinicians work directly within your EHR mobile app and web-based platforms. Nuance has worked side by side with EHRs, many of whom have voice-enabled their own apps on the Nuance platform—including Epic Haiku and Canto, Cerner PowerChart Touch, eClinicalWorks Mobile and Touch, MEDITECH Web EHR, and athenaClinicals, just to name a few.

Manage transcriptions
When the data capture ends, our treatment begins. To help doctors manage and collaborate over the patient story, clinicians can take advantage of Nuance's mobile transcription apps to browse their patient schedules and capture, review, edit, and authenticate transcribed patient documentation with the touch of a finger—from any location at any time.
Share diagnostic reports
The productivity doesn't stop at the EHR. PowerScribe 360 Mobile Clinician and PowerScribe 360 Mobile Radiologist open the lines of communication between radiologists and referring physicians allowing them to securely share, sign, and collaborate over diagnostic reports.
Access your voice in third party apps
Through the Nuance Healthcare ID—part of the Dragon Medical One cloud platform—clinicians can move effortlessly among a range of voice-enabled mobile productivity apps providing secure communication, care coordination, clinical reference, telemedicine, population health, and more.
Connecting healthcare through cloud innovation
1st to market
with innovations in cloud-based speech recognition, mobile medical transcription solutions, and computer-assisted physician documentation (CAPD).
67 million
active cloud users per month connect to Nuance solutions using more than 12 billion connected devices including TVs, cars, watches, thermostats, home security systems, clinical documentation solutions, and more.
3,000+
clinics, hospitals, and IDNs leverage Nuance healthcare solutions in the cloud.
Learn how cloud-based clinical documentation can give clinicians more portability—and your IT staff more time.
Contact us to speak to a specialist: