Build with leading AI‑based services and APIs
Create innovative conversational AI experiences with Nuance APIs, SDKs, and cloud-native microservices.
AI Services and APIs for intelligent customer engagement
Accelerate innovation with cloud‑native services and APIs for speech, VA/chatbots, messaging, biometric authentication and fraud prevention
Customise and enhance digital customer engagement and agent experiences
Agent Engagement(pdf)—Allows customers to build an alternative agent desktop or integrate live chat programs into an existing agent application.

Chat Events(pdf)—Allows organisations to listen for events from Nuance Live Chat and track that information within third‑party web analytic solutions.

Customer Engagement(pdf)—Powers third‑party messaging channels and native mobile applications on the Nuance platform for communication transmissions between a customer and an agent.

Data Collection(pdf)—Supplement data at the customer engagement level and allow agents to record notes while a chat is in‑progress or gather for reporting purposes while building a single profile for an individual visitor across multiple devices.

Invitation(pdf)—Used to create and send dynamic messages to seamlessly move consumers to a digital engagement from another channel, such as voice.

Reporting(pdf)—Access real‑time and historical data to create bespoke dashboards or custom reporting.


Discover the golden rules of DIY customer experience
For technology leaders, the pressure is on to deliver unique conversational customer experiences, fast. And now that cloud, APIs, and microservices have made it possible to build world‑class experiences in‑house, there are often many good reasons to take a DIY approach.
But building experiences that customers love—and that deliver your desired business outcomes—means sourcing the right tools, closing up skills gaps, and honing your strategy. If you want to see the best results, there's a lot to consider.
We've created this guide to help!
Get our latest resource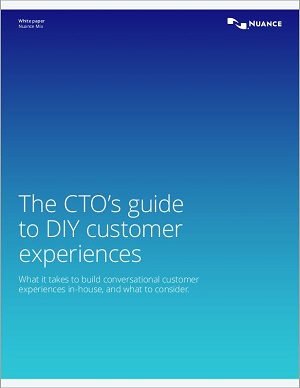 Benefits
Nuance APIs deliver value to your organisation
Move faster with DIY
Increase time to market and velocity of deployment with DIY (Do‑It‑Yourself) by leveraging ready‑to‑use, market‑leading AI services and APIs with advanced features and capabilities.
Customise to match your needs
Organisations have the flexibility to use our APIs, SDKs, and microservices to build what they need or integrate other third‑party technologies to complete the solution.
Freedom of deployment
Nuance technologies are available as containerised microservices and supported by cloud‑native standards which make our services easier to deploy, dynamically scalable, and cost‑effective. Deploy in your own cloud, any 3rd party cloud, or on‑premise to best suit your business model.
Flexible support
Organisations can DIY or work closely with our professional services team. Choose the DIY model that works for you based on your in‑house team and resources. Our professional services team assists as much or as little as you need so you can focus on delivering stellar business results.
Nuance Mix—Creativity unleashed
Create intelligent IVR, chatbot, and messaging experiences with intuitive tools built on Nuance speech and AI technologies, APIs, and microservices.
Learn more