Power to the people—at a lower cost
Nuance solutions enable government institutions to provide the intelligent, seamless experiences citizens expect, while keeping costs under control.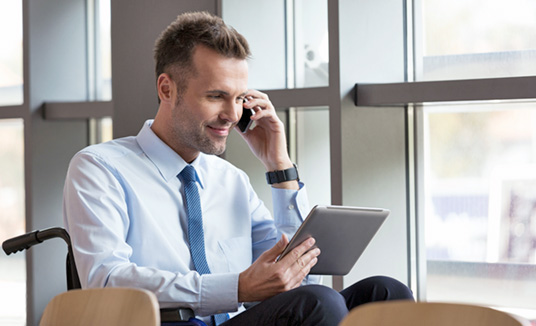 Intelligent experiences that meet modern expectations
People expect government agencies to offer the same level of service they get from private companies. But when you're running on a tight budget, meeting those expectations isn't easy. With Nuance conversational AI solutions for government, you can improve citizen experiences one step at a time, at your own pace.
Whether you want to increase self‑service in the IVR, improve agent efficiency, or enhance fraud prevention, with Nuance you can add intelligence to the customer experience where it's needed most—while dramatically reducing costs.
Benefits
Engage, serve, and protect your citizens
Proven conversational AI solutions from Nuance give constituents effortless, intelligent experiences and fast resolutions while protecting your organisation from fraud.
Improve experiences
Boost engagement while reducing contact centre costs by providing simple, effective self‑service in the IVR. When callers need to talk to an agent, make sure they get to the right department or individual straight away, improving satisfaction and increasing operational efficiency.
Streamline authentication and prevent fraud
Use biometric authentication to verify callers' or employees' identities, so your agents can focus on providing high‑quality service to people who need it. Fight back against growing fraud attacks and stop fraud before it happens by authenticating callers based on who they are, not what they know.
Boost efficiency and reduce costs
Encourage self‑service adoption by offering intuitive, conversational experiences that increase containment and first contact resolution rates. Reduce average handle time by minimising transfers and using an intelligent IVR to pass conversation context to agents, so they can resolve issues faster.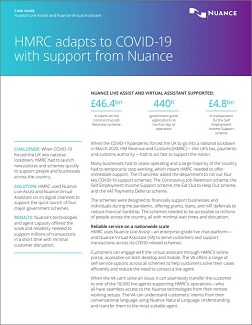 HMRC adapts to COVID‑19 with support from Nuance
See how the UK's tax, payments, and customs authority acted fast to support the nation during a crisis.
Real‑world business outcomes
20%
increase in call centre efficiency
37%
increase in agent availability
50%
reduction in call abandonment
84%
CSAT with conversational IVR
Learn how you can offer the service your citizens expect while delivering the cost savings you need.