Customer engagement solutions insurers can depend on
Insurers worldwide use Nuance omnichannel solutions for insurance to increase customer conversion and retention, boost operational efficiency, and prevent fraud.
AI‑first solutions for omnichannel customer experiences
From policy purchase through payment processing to claims adjustments, Nuance solutions help insurers increase customer satisfaction while reducing costs across voice and digital channels. And with our advanced biometric authentication, insurers can fight back against a rising tide of fraud.
That's why leading insurers trust Nuance to help them increase conversions, reduce churn, mitigate fraud risk, and streamline operations.
$1.6M
cost savings from call deflection in one quarter
Benefits
Conversational experiences that get results
Nuance conversational AI solutions for the insurance industry provide intelligent, consistent omnichannel experiences throughout the customer journey, helping insurers convert and retain more customers, give agents more support, and prevent more fraud.
Improve customer experience and conversion
Create conversational, automated experiences that answer customer queries, guide customers to the right resources, and even provide quotes—with seamless transitions to live agents when required.
Streamline authentication and prevent fraud
Protect your brand from ever‑increasing transactional fraud and account takeovers, with AI‑powered fraud prevention that authenticates people based on who they are, not what they know. Use multimodal biometrics to streamline authentication, removing customer effort while preventing fraud across voice and digital channels.
Increase efficiency and reduce costs
Use our AI‑first approach to automate as much as possible across policy buying, premium payment, and claims processes. When live assistance is needed, give agents AI‑based insights to handle enquiries quickly and effectively. And use intuitive analytics to continuously optimise your customer engagement programme.
Real‑world business outcomes
85%
virtual assistant issue resolution
$4.4M
incremental revenue from live chat in one quarter
86%
live chat customer satisfaction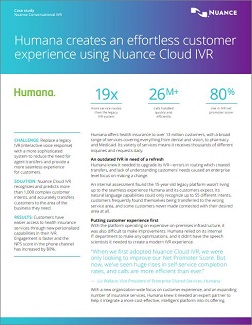 Fast, personalised self‑service
Humana creates an effortless customer experience with Nuance Conversational IVR in the cloud.
Learn how you can create intelligent experiences that convert and satisfy more customers.